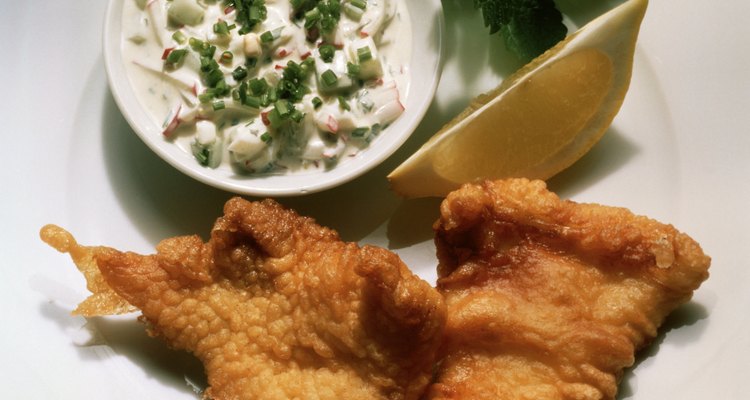 Eising/Photodisc/Getty Images
Coating fish in cornmeal adds a finely-grained texture that fries up into a delicately crisp crust as well as adding another layer of flavor without overwhelming the fish. Getting the cornmeal to stick can be a challenge because a traditional egg-and-milk batter is too heavy for fish. A beaten egg white solves that problem, though you may want to use two when cooking for a crowd. You can fry any type of fish, but some kinds take to it far better than others. Catfish, cod, hake, halibut and tilapia do well when fried.
Step 1
Fill one pie plate or other shallow dish with approximately 1/2 inch of cornmeal. You can use fine or medium cornmeal by itself, mix it with a little flour or use a packaged cornmeal fish-fry mix.
Step 2
Place an egg white in a second pie plate or shallow dish. Season it with salt, pepper and your choice of seasonings. Almost any spice goes with fish, but plain salt and pepper are enough to bring out the natural flavor of both the cornmeal and the fish.
Step 3
Cut your fish fillets in half lengthwise, Cut both halves crosswise into nuggets. Keep the size of the nuggets as consistent as possible so that they all cook at the same rate.
Step 4
Fill a skillet with about 1/2 to 3/4 inches of oil. Canola oil, vegetable oil and peanut oil all work fine. Heat the oil over medium high until a bit of cornmeal scattered over the top sizzles.
Step 5
Dip the fish pieces in the seasoned egg white and roll them in the cornmeal while the oil is heating. Place them into the hot oil in small batches.
Step 6
Fry the fish nuggets for 2 to 3 minutes and then turn them over with tongs. Fry them for another 2 to 3 minutes, depending upon how thick they are. Place the cooked fish nuggets on a paper towel-lined plate to drain and serve immediately.
References
Tips
Beat mild hot sauce into the egg white and dip fish nuggets in the mixture before coating them in cornmeal to add a bit of Cajun kick.
Warnings
Do not crowd the pan when frying fish nuggets because if the temperature of the oil falls too low, the coating won't get properly crisp and if the pan is overcrowded it can bubble over.
Writer Bio
Brynne Chandler raised three children alone while travelling, remodeling old homes, taking classes at the Unioversity of California Northridge and enjoying a successful career writing TV Animation. Her passions include cooking, tinkering, decorating and muscle cars. Brynne has been writing fun and informative non-fiction articles for almost a decade. She is hard at work on her first cookbook, which combines healthy eating with science-based natural remedies.
Photo Credits
Eising/Photodisc/Getty Images