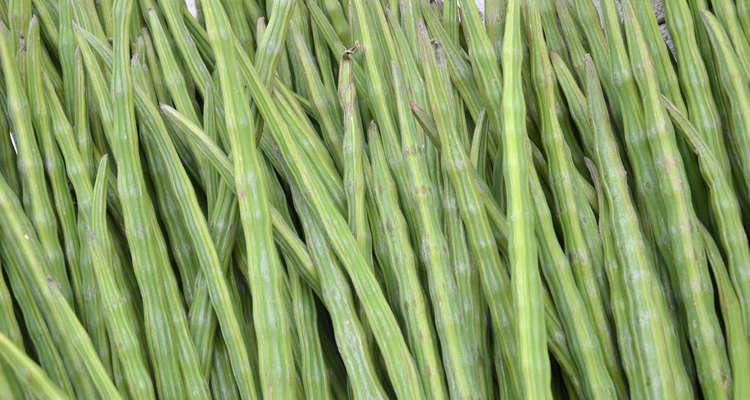 tang90246/iStock/GettyImages
Although physically unimpressive, the moringa tree has been called "the miracle tree" and "the tree of life" by many in the humanitarian and agroforestry fields because of its valuable uses. This fast-growing tree can reach 10 to 15 feet within a year of being planted, and it thrives in challenging environments. It has four edible components: the pods, or drumsticks, the leaves, the seeds and the roots. The pods are similar to Chinese bean pods and average 12 to 15 inches in length. Enjoy their delicate, asparagus-like flavor at home with one of several quick and easy preparation techniques.
Easy Boiled Moringa
Rinse the moringa pods, or drumsticks, under cold water. Cut off and discard the ends from each pod. Cut each pod into 1-inch pieces.
Put the cut moringa into a large saucepan and add water just until all the pieces are covered. Add salt, pepper, butter and onion powder. Bring the water to a boil.
Reduce heat and simmer for 10 minutes or until the moringa pieces are fork-tender. Drain the moringa. Serve as a stand-alone side dish or mix with rice and cooked fish or chicken for a hearty full meal.
Steamed Seasoned Moringa
Rinse the moringa pods under cold water. Cut off and discard the ends from each pod. Slice the pods into 1- to 2-inch pieces.
Steam the moringa pieces without any seasonings. After 10 minutes, remove the pieces from the steamer and place them in a large bowl.
Make a dressing of olive oil, diced onion, sea salt, pepper and minced garlic. Add parsley or fresh herbs for color, if desired. Mix all ingredients until well-blended. Pour the dressing over the steamed moringa and serve immediately while warm, or refrigerate for several hours and serve as a refreshing cold side dish.
Zesty Moringa Saute
Rinse each moringa pod under cold water. Cut off the ends and discard them. Slice the pods on the diagonal into 2- to 3-inch pieces.
Heat cooking oil or butter in a large skillet over medium-high heat. Add moringa slices and saute for three to four minutes.
Add finely diced red and green peppers and minced onion. Season with salt, garlic powder, pepper and a dash of cayenne pepper. Continue sauteing until the moringa slices are crispy-tender and the onions are translucent, about six minutes.
References
Resources
Writer Bio
As a national security analyst for the U.S. government, Molly Thompson wrote extensively for classified USG publications. Thompson established and runs a strategic analysis company, is a professional genealogist and participates in numerous community organizations.Thompson holds degrees from Wellesley and Georgetown in psychology, political science and international relations.