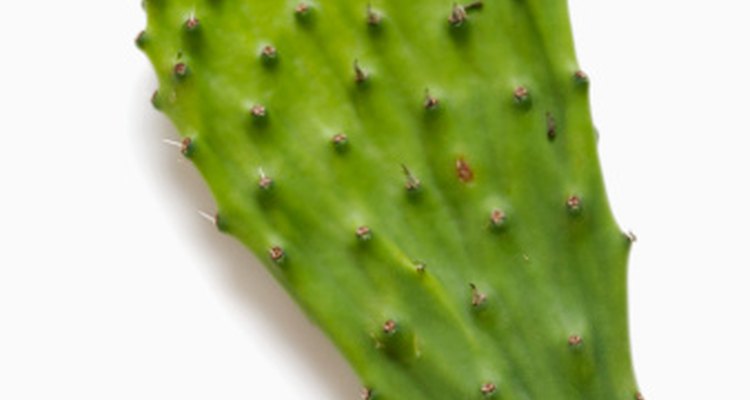 Jack Hollingsworth/Photodisc/Getty Images
Edible cactus leaves, commonly referred to as napoles in whole form and napolitos when chopped, respond best to simmering and deep frying. Although cactus leaves are available from late summer to early fall, they are available at market year-round. Cactus leaves should have firm flesh and unblemished and unwrinkled skin. Store uncooked cactus leaves wrapped tightly in cling film for up to a week in the refrigerator.
Preparation
Remove the green nubs from the leaves using a nylon scrubbing pad or cotton cloth.
Remove the spines by slicing under them where they originate at the areoles.
Rinse the leaves with cool running water, and pat dry with paper towels.
Deep Fried
Slice 2 lbs. trimmed and cleaned cactus leaves into strips measuring 3/8 inch wide and 2 1/4 inches long. Whisk together 3 whole eggs, 1/4 cup milk and 1 tsp. freshly squeezed lemon juice in a bowl.
Mix together 1 cup all-purpose flour, 1/2 tbsp. kosher salt and 1 tsp. freshly ground black pepper with a fork or whisk.
Heat a deep fryer to 350 degrees Fahrenheit. Place the seasoned flour on a plate in an even layer.
Dip the cactus strips in the egg wash and dredge in the seasoned flour mixture. Place the cactus strips on a sheet pan.
Fry the strips in the oil until golden brown, approximately 3 1/2 minutes. Place the cooked strips on a plate lined with paper towels to drain.
Simmered
Dice 2 lbs. cleaned and trimmed cactus leaves into 3/8-inch cubes. Dice 1 large white onion into 3/8-inch pieces.
Season the cactus leaves to taste with kosher salt and freshly ground black pepper. Heat 3 tbsp. olive oil in a saucepan over medium heat for 4 minutes. Add 2 sliced serrano chili peppers and 2 sliced jalapeno peppers to the oil, and cook for 3 minutes. Add 4 finely minced garlic cloves to the oil.
Cook the garlic until fragrant, approximately 3 minutes. Add 1 lb. diced tomatoes, the cactus leaves and 1/2 cup chicken stock to the saucepan, and cover.
Simmer for 35 minutes or until tender. Finish by stirring in 1/4 cup chopped fresh cilantro and seasoning to taste with kosher salt and freshly ground black pepper.
References
"The Professional Chef"; The Culinary Institute of America; 2006
Writer Bio
A.J. Andrews' work has appeared in Food and Wine, Fricote and "BBC Good Food." He lives in Europe where he bakes with wild yeast, milks goats for cheese and prepares for the Court of Master Sommeliers level II exam. Andrews received formal training at Le Cordon Bleu.
Photo Credits
Jack Hollingsworth/Photodisc/Getty Images