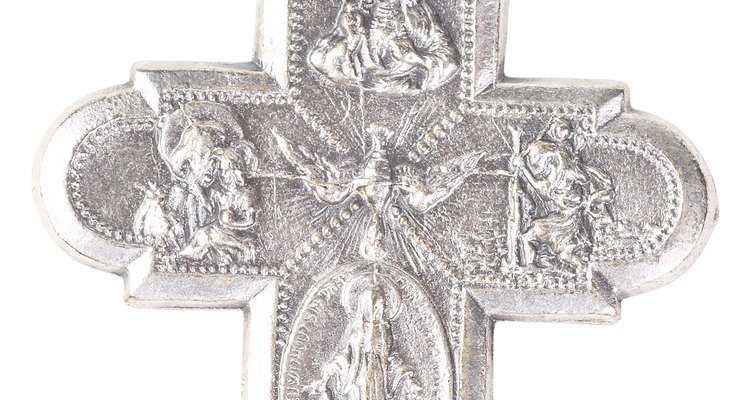 Hemera Technologies/PhotoObjects.net/Getty Images
The Holy Sacrament of Confirmation represents a huge step in the young Catholic's life. This sacrament is conferred on a member of the church who has already been Baptized. In this ritual, the Catholic faithful believe that the recipient is blessed by the Holy Spirit, receiving a grace that makes the person a "perfect Christian" in the eyes of God. As a godparent, you will often be asked to be your godchild's sponsor, to stand with him or her while they receive the sacrament. Such an important step in faith usually includes a celebration and gift giving.
Persoanlized Gifts
Some of the most meaningful gifts for spiritual celebrations such as Confirmation are personalized gifts. Personalizing a gift for a godchild will ensure that they child always remembers the important event, and if you include your own name or picture, they will always remember the role you played.
Any number of items can be engraved with the child's name, confirmation date and other personal information. A photo frame with this information and a picture of the child in his sacramental dress clothing can serve as a touching reminder. Include a photo of yourself with the child at this special spiritual time so that he or she always remembers that you were there for the important times and that you can be a leader in faith.
Personal Information
As a godparent, one of your primary duties in your godchild's life is to guide him or her spiritually on their Catholic path. A great way to carry on this tradition and to provide a thoughtful gift for a spiritual celebration like confirmation is to research some information regarding the child's faith.
For instance, many Catholic children are often named after saints, such as Patrick, John or Mary. Similarly, children may share birthdays with some spiritual figures, or may have a birthday that falls on a saint's feast day (St. Valentine on Feb. 14 or St. Patrick on March 17).
Find a saint or spiritual figure (the child's favorite pastor, for instance, or a famous church leader such as the Pope) that has a name or date in common with your godchild. Do some research on this figure, and on other things that he or she may have in common with your godchild. Present this information to your godchild in the form of a scrapbook or photo album that they can study and keep. This will remind them that you are a spiritual guide for them, and that even if they do not always feel close to their faith, they always have something in common with it.
Fun Gifts
While it is important to convey spiritual gravity during the Confirmation ritual, it is still a celebration of faith and of your godchild, so have a little fun with your gift. Some retailers sell T-shirts monogrammed with "The Godchild," modeled after the famous movie series "The Godfather."
You can also gift your godchild with entertainment. Consider finding a younger godchild a cartoon version or storybook explaining the history and importance of Confirmation.
The gifts are not required to be spiritual, especially if you know that all of the child's other gifts will be spiritually based. Consider getting your godchild a new toy, compact disc or movie that they will enjoy, without worrying about the overarching spiritual aspects; after all, a celebration is a celebration.
References
Writer Bio
Samantha Volz has been involved in journalistic and informative writing for over eight years. She holds a bachelor's degree in English literature from Lycoming College, Williamsport, Pennsylvania, with a minor in European history. In college she was editor-in-chief of the student newspaper and completed a professional internship with the "Williamsport Sun-Gazette," serving as a full-time reporter. She resides in Horsham, Pennsylvania.
Photo Credits
Hemera Technologies/PhotoObjects.net/Getty Images