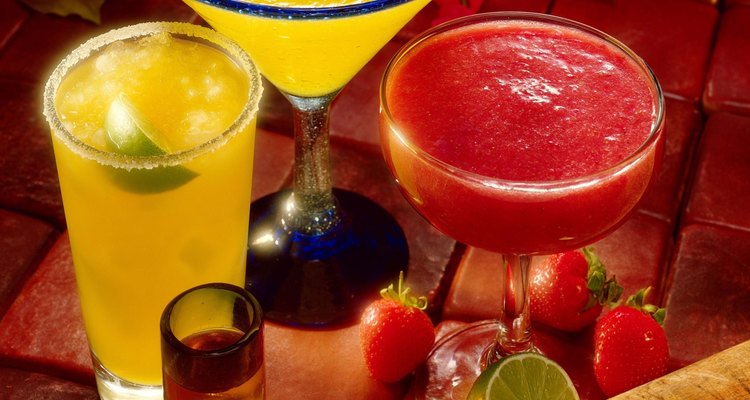 Jupiterimages/Stockbyte/Getty Images
Choosing the right cocktail to accompany a particular dish can be a challenge; a masterful pairing separates good meal from a great a one. If pork tenderloin is on the menu, you're in luck because pork's mild meat is incredibly versatile, lending itself to flavors ranging from subtle to bold. When contemplating cocktails to pair with pork, let the spices and sauces be your guide -- selecting the perfect pairing will be "gravy."
Michelada
If your plan is to take your pork tenderloin south of the border in terms of flavor, pair it with a refreshing yet spicy michelada. This beer cocktail stands up to bold flavors like cayenne pepper, Mexican oregano and cumin. Begin with a chilled Mexican lager and add a few dashes of hot pepper sauce, Worcestershire sauce, a squirt of lime and a pinch of black pepper. Rim the glass with kosher salt if you like. Go ahead and use a darker beer if your pork tenderloin flavors are particularly bold or go full "boar" with a bloody Mary.
Sake
If you intend to give your tenderloin an Asian persuasion, pair your pork with sake. Seasonings such as ginger, garlic, chiles, soy sauce and hoisin sauce pair beautifully with the fragrant, full-bodied flavors many sakes possess. Enjoy sake's subtle and welcome complexity sipped chilled or at room temperature with your pork or pair it with a sake cocktail. Asian Marys made with equal parts tomato juice and sake with a pinch of wasabi are great for spicy pork dishes. If sweet-and-sour pork is on the menu whip up a batch of sake sours by adding equal parts sweet-and-sour mix with a fruit puree like mango to three parts sake.
Old Fashioned
If you're grilling up some barbecue, bourbon is a no-brainer. From tangy barbecue sauces to smoky mesquite preparations, bourbon's assertive, barrel-aged flavors are complementary when sipped neat or made sweet with subtle additions. Prepare an old fashioned by muddling sugar and bitters together, filling with bourbon and topping with a splash of water and an orange peel, and pair with bold, mesquite flavors to cut the intensity of the smoke.
Margarita
The margarita, like pork, is surprisingly versatile and can be served alongside a variety of pork preparations. Serving a classic margarita alongside a Mexican-inspired preparation such as adobo-rubbed loin is a guaranteed hit. Make a berry margarita to cut through the bold flavors of barbecued pork or choose a barrel-aged reposado or anejo tequila to mimic the smokiness of mesquite preparations. Muddle fresh herbs such as rosemary in your margarita to mimic flavors present in your pork tenderloin dish.
References
The Ultimate Bar Book: The Comprehensive Guide to Over 1,000 Cocktails; Mittie Hellmich
Writer Bio
Christina Kalinowski is a writer from the Twin Cities who began her career in 2011. She contributes food and drink related articles to The Daily Meal. She holds a Master of Arts in sociology from Purdue University.
Photo Credits
Jupiterimages/Stockbyte/Getty Images