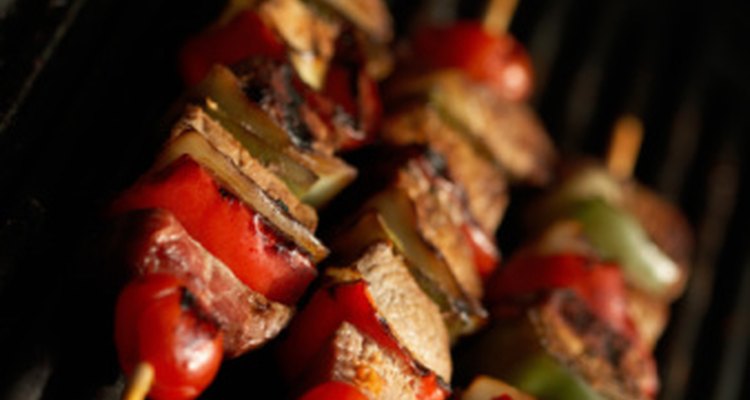 Jupiterimages/Photos.com/Getty Images
Meat on a stick is a fun way to eat your food. It's also easy to control your portions, which is important with beef because of the fat and cholesterol content. A serving of 3 oz. of beef roast contains 290 calories, 8 g of fat and 65 mg of cholesterol, but you don't need a full serving for one skewer. Beef kabobs are versatile, taking well to a variety of seasonings, sauces and spices. Accompanied by a variety of vegetables, kabobs are a nutritious staple of summertime grilling.
Curry
While beef is not used in traditional Indian curry dishes, the curry spices work well to enhance the flavor of beef kabobs. You can buy a premixed curry powder or make your own to your taste. Traditional curry spices include turmeric, cumin, coriander and pepper, but there are many regional varieties so don't be afraid to experiment with dried chili peppers, mustard seed, cardamom, saffron and ginger. You can make a marinade with vegetable oil and curry spices for the beef or you can use the spices as a dry rub before cooking the kabobs. Pair the beef with onions and red peppers on the skewers.
Caribbean
The flavors of the Caribbean are perfect for warm weather grilling. It's easy to find Jamaican jerk dry rubs, or even bottled jerk sauces, for your beef. The flavor you're going for is tangy, sweet and spicy and it's easy to make your own seasoning. Lime juice, ginger, allspice, cayenne pepper and brown sugar make a good base for a tropical-inspired seasoning for beef kabobs. Thoroughly mix beef chunks and your marinade and them let sit for at least 15 minutes before assembling the kabobs. Alternate with grape tomatoes and onions and serve with a fruit salsa.
Asian
Adding an Asian twist to beef kabobs is as simple as brushing them with soy sauce or plum sauce. Teriyaki is the most common flavor used for grilling and it is easy to find in bottled sauces. To make your own, use soy sauce, rice wine vinegar and a little sugar. For more complex flavor, add sake -- a rice based alcohol -- and fresh, grated ginger. A little pineapple juice adds sweetness. Pair the marinated beef with onions, bell peppers and mushrooms. Sprinkle sesame seeds on the kabobs before grilling for a nutty sweetness.
Herbs
When you want the flavor of the beef to shine through, particularly if you're using a high-quality cut, use simple seasonings. Salt, pepper and dried herbs will enhance but not overpower the beef. Use the herbs sparingly if they are strong, such as rosemary and sage. Tarragon works well with beef and vegetables. Mix your seasonings with white wine and marinate the beef before assembling the kabobs. Thread your skewers with the meat, zucchini and leeks.
References
Writer Bio
Since 1997, Maria Christensen has written about business, history, food, culture and travel for diverse publications. She ran her own business writing employee handbooks and business process manuals for small businesses, authored a guidebook to Seattle, and works as an accountant for a software company. Christensen studied communications at the University of Washington and history at Armstrong Atlantic State University.
Photo Credits
Jupiterimages/Photos.com/Getty Images