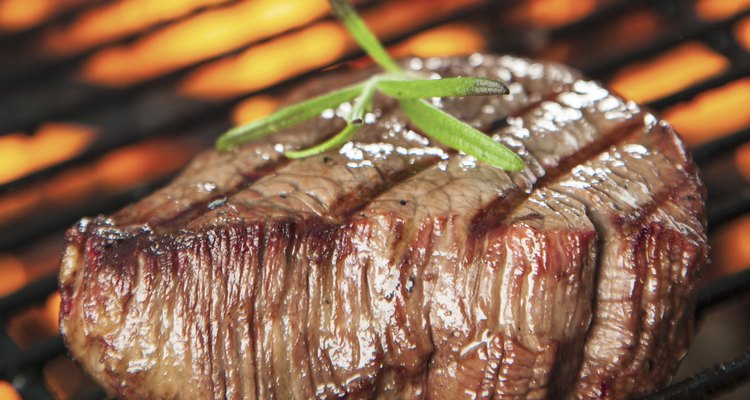 Jag_cz/iStock/Getty Images
Filet mignon is perhaps the most elegant and flavorful of all of the cuts of steak, which makes it an impressive meal for a holiday meal or a dinner party. For a large gathering, you can purchase the entire tenderloin, which is the cut of beef that contains the filet mignon, grill it and then cut the tenderloin into serving-sized filets mignon yourself. Grilling the entire tenderloin is easier than grilling small, individual fillets, which are more prone to burning or drying out on a grill.
Remove a 6-lb.-to 7-lb. beef tenderloin from the refrigerator 45 minutes to an hour before you plan to grill it. A warm beef tenderloin will retain more of its juices as it cooks than a cold one will.
Tie the two end flaps under the roast with cooking twine. This will give the tenderloin a more uniform shape, which will make it easier to grill evenly.
Coat the tenderloin with olive oil. Rub the tenderloin with the dry rub or seasoning of your choice. Beef tenderloin pairs well with a variety of seasonings, but a garlic rub, red wine-flavored rub or sea salt-based rub are good choices.
Preheat the grill to medium, or about 350 degrees Fahrenheit. If your grill has more than two burners, light the outer two burners, leaving the middle burners unlit. If you are using a charcoal grill, start the charcoal in a chimney starter and then use a coal rake to divide the coals into two piles at opposite ends of the grill, leaving the center area open.
Place the tenderloin on the unlit part of the grill and close the lid. Grill the beef tenderloin for one hour, turning occasionally. When the tenderloin is finished, the internal temperature should register 135 degrees Fahrenheit for medium rare.
Allow the tenderloin to rest for 20 minutes before you cut it into serving-sized pieces. Beef tenderloin that is cut too soon will lose much of its juices, making the beef dry.
Cut the cooking twine with a knife and remove it. Serve the fillets hot plain or with a Bearnaise sauce.
References
Writer Bio
Natalie Smith is a technical writing professor specializing in medical writing localization and food writing. Her work has been published in technical journals, on several prominent cooking and nutrition websites, as well as books and conference proceedings. Smith has won two international research awards for her scholarship in intercultural medical writing, and holds a PhD in technical communication and rhetoric.
Photo Credits
Jag_cz/iStock/Getty Images