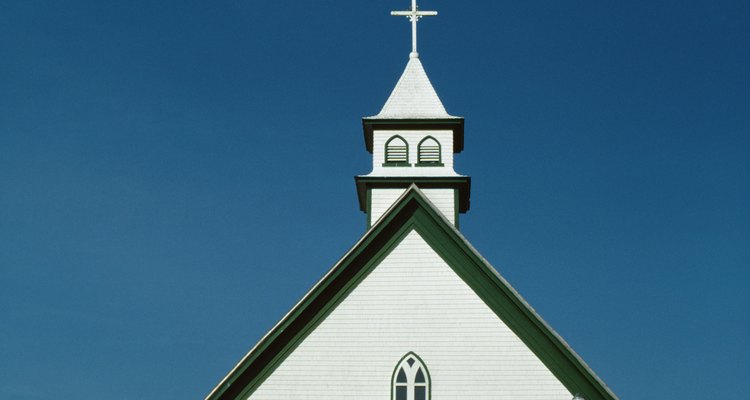 Photos.com/Photos.com/Getty Images
Church bulletin boards can be an important addition to a faith community. Some bulletin boards are simply inspirational, with eye-catching, thought-provoking themes. Other bulletin boards have distinct purposes in the life of the church. Needs vary somewhat by religion and denomination, but overall, bulletin boards can enhance the church members' experience at their place of worship.
Information
Bulletin boards are excellent places to post information that needs to be found easily. Some churches separate an informational bulletin board into sections for different departments. For example, the choir may have a section to post meeting times, the youth group might have a section to tell when and where their next activity will take place, and the nursery might post a list of volunteers in their section. Each department can be responsible for keeping its section up to date.
Announcements
Some churches provide a bulletin board specifically for when members of their faith community are featured in an article in the local newspaper (in a positive way). This is effective whether the publication is a print or online version, as online articles can be easily printed and posted. Local stories featuring a parishioner's volunteer service or awards won by students are generally well-received. Notices welcoming a new baby, congratulating graduates or celebrating a marriage are also appropriate on this type of bulletin board.
Volunteer Opportunities
A specific bulletin board for volunteer opportunities is often quite helpful in a church. People may not remember to go online to sign up to volunteer, but an in-person reminder can be convenient. Whether the church needs people to bring items to a pot luck, work in the soup kitchen, lead the children's choir, take the offering or perform janitorial duties, bulletin boards sign-up sheets can provide a visual representation of the church's immediate needs.
Courses of Study
Many churches have different study opportunities outside of the regular weekly worship service. A bulletin board featuring these lets church attendees find a course that suits their needs. Some classes are defined by their membership (single adults, high school students, senior women, etc.). Others are defined by the material they cover (a particular book of the Bible, how to pray, church doctrine, etc.).
Stories from Scriptures
Recreating a Bible story on a bulletin board can be educational for those not familiar with the tale, or a fond reminder for those that have heard the story. For example, the Old Testament story of Jonah and the big fish can be displayed with eye-catching graphics. The story of Joseph, his brothers and the coat of many colors is also easily recreated. An actual contemporary multicolored coat can be placed in the middle of the bulletin board, with story components placed around it.
Holiday Celebrations
Reserving a bulletin board for holidays, secular or religious or both, is a popular idea. Decorations for major holidays are easy to find, especially around Christmas and Easter. For churches that celebrate Advent and/or Lent, each day of the holiday can be noted on the bulletin board.
References
Writer Bio
Susan Presley has worked in health care journalism since 2007, and has been published in the American Journal of Nursing and other academic periodicals. She received her Bachelor of Arts from Truman State University and a Master of Divinity degree from Louisville Presbyterian Theological Seminary.
Photo Credits
Photos.com/Photos.com/Getty Images