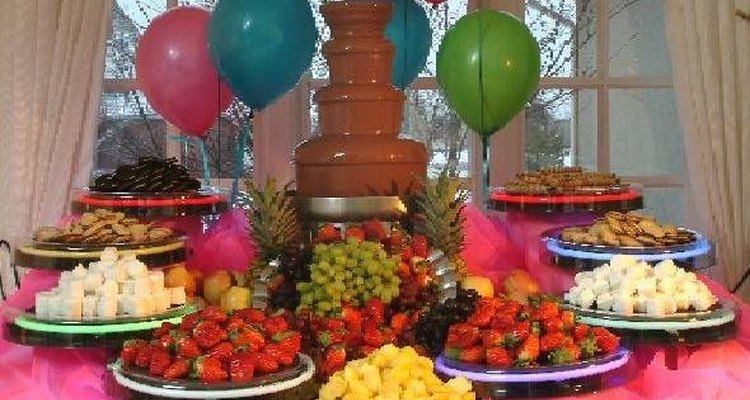 Chocolate fountains are a popular addition to parties, events and wedding receptions throughout the United States. The fountain allows guests to dip their own foods into a cascade of melted chocolate. The chocolate fountain is a fun an inexpensive addition to any event, and comes in a variety of styles and shapes to fit into even the most high class of affairs.
Placement
One of the most important aspects of a chocolate fountain is its placement in the event space. Though a chocolate fountain can be placed on any table within reach of a power outlet, proper placement can make the fountain experience more pleasing to your guests. Because most chocolate fountains provide dipping space around their full circumferences, placing your chocolate fountain on a separate round table with enough access space to walk around the table will allow more guests to access the fountain simultaneously. As for the dipping foods, you can either place them in display bowls or plates around the perimeter of the table, or on the buffet line table.
Serving
It is not recommended that you allow guests to use their fingers when dipping foods into the chocolate fountain. Not only is this not sanitary, but it also can create quite a mess. This can especially be a problem for formal events, such as weddings or fundraisers, where formal clothing can quickly get stained or damaged. Instead of having guests use their fingers, provide plenty of skewers and long toothpicks for your guests to dip the food into the chocolate fountain. Skewers come in a variety of forms from basic bamboo skewers to ornate decorative skewers to add extra detail to your food display.
Foods
Classic chocolate fountain foods include strawberries, bananas, marshmallows and graham crackers. Instead of sticking only to classic foods, branch out to other more unique fruits such as pineapples, cherries, grapes or oranges. You can also choose candies and cookies, and anything else you feel would taste fantastic dipped in chocolate.
Types of Chocolate
Another way to change up the classic chocolate fountain is to change the type of chocolate in the fountain itself. Though most choose a milk chocolate, there are many suppliers online that offer a variety of other types of chocolates (and other melted dips) for your fountain. For example, you can choose white chocolate, dark chocolate, Belgium chocolate and even caramel. A host of oil-based chocolate coloring is also available to change the look and color of whatever chocolate you choose to use.
Resources
Writer Bio
Chris Sherwood is a professional journalist who after years in the health administration field and writing health and wellness articles turned towards organic sustainable gardening and food education. He now owns and operates an organic-method small farm focusing his research and writing on both organic gardening methods and hydroponics.