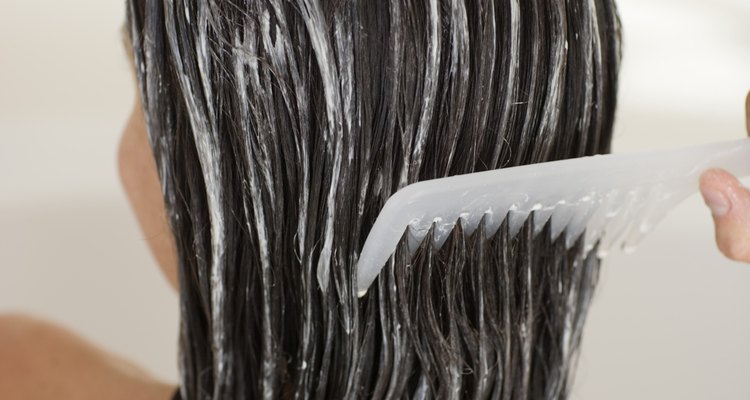 Pixland/Pixland/Getty Images
Hair that is both dry and fine calls for a delicate balance in your haircare regimen. Your locks need to be moisturized for manageability and shine without being weighed down with heavy products. Regardless of how you prefer to style your hair, dry ends and greasy roots are always counterproductive -- and curls and sleek looks will not hold without the proper nourishment. A targeted daily routine and a weekly treatment will leave your hair looking shiny and full for the days to come.
Weekly Treatment
Step 1
Brush your hair with a detangling brush, starting at the ends and working your way up to the root to avoid breakage.
Step 2
Coat your hair from root to tip with a deep conditioner. Opt for an intensive, natural-oil-based treatment. While you wouldn't normally be able to use a heavy conditioner on fine hair, this is possible pre-shampoo as it will be washed out.
Step 3
Cover your hair with a shower cap, and allow your hair to absorb the conditioner for at least 30 minutes. Leave the cap and conditioner on overnight if possible.
Step 4
Rinse hair completely with warm water.
Step 5
Wash your hair with a clarifying shampoo, lathering at the nape of the neck with your fingertips, and working your way up to the scalp before rinsing completely. This will remove all oil from the scalp that could weigh hair down, while still retaining moisture from the conditioning treatment.
Daily Wash
Step 1
Shampoo your hair with a sulfate-free shampoo, focusing on the root area.
Step 2
Rinse the shampoo from your hair with warm water.
Step 3
Condition hair with a regular conditioner formulated for dry hair, focusing on mid length through to the ends. Allow the conditioner to sit for three to five minutes before rinsing thoroughly; this will lock in all moisture without providing a heavy coating.
Step 4
Gently squeeze the ends of your hair dry with a towel.
Step 5
Apply a light leave-in conditioner to the ends of your hair, and comb it through with a wide-tooth comb to detangle and disperse all product evenly. Opt for a spray-on, leave-in conditioner or a dime-sized amount of cream product.
Heat Styling
Step 1
Apply a light hair oil to the ends of your hair while still damp, to coat hair and retain moisture when faced with heat. A dime-sized amount is ample for shoulder-length hair.
Step 2
Mist hair with a heat protectant. Opt for a product that disperses a fine mist and contains style-enhancing properties in order to prevent the need for excess product that will weigh your hair down. Heat protectants that help to straighten, volumize, add texture and curl are all options.
Step 3
Comb through your hair with a wide-tooth comb to evenly disperse all product.
Step 4
Blow-dry hair on low heat, with a nozzle pointed down the hair shaft. Avoid using a brush on your hair until it is 70 percent dry to prevent breakage.
Step 5
Wrap a section of hair over a round natural-bristle brush, and aim the blow dryer at the section until the hair is completely dry as you slowly pull the brush through your hair. Repeat throughout the hair. Natural-bristle brushes are gentler on hair and help to smooth the cuticle while speeding up drying time for less heat exposure. Use a small brush for short hair, and a large brush for longer hair.
Step 6
Mist the ends of your hair with heat protectant again before doing any additional heat styling.
Finishing Touches
Step 1
Gently run a dime-sized amount of anti-frizz serum or oil over dry hair to smooth flyaways and add shine.
Step 2
Hold a can of anti-humidity hairspray 10 inches away from your head, and apply one even coat to your hair. Hairspray is the ultimate sealant and will protect your style from static, humidity and the elements.
Step 3
Carry a small amount of serum or oil with you throughout the day for touchups as needed. Only reapply product to the ends of your hair, as anything near the root area will weigh down fine hair, making it appear greasy. The ends are the first portion that will become dry and can be treated in a pinch.
References
Tips
If you don't have a deep conditioner on hand, opt for coconut oil or olive oil -- two natural products that work wonders on dry hair.
Sulfate-free shampoos are best for dry hair, as they cleanse without stripping the surface of natural oils.
Writer Bio
Celeigh O'Neil has been writing professionally since 2008. She has a Bachelor of fine arts from the University of Ottawa, as well as degrees in fashion illustration/design, digital arts and certification in hair and makeup artistry. O'Neil was a frequent contributor to Toronto's "Dialog" newspaper and has worked as an instructional writer, creating lessons in fashion, art and English for students of all ages.
Photo Credits
Pixland/Pixland/Getty Images