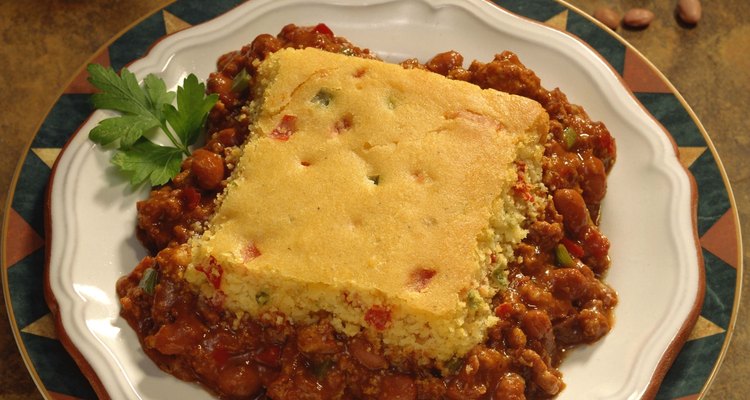 Jupiterimages/Stockbyte/Getty Images
A slow cooker may not be the first thing that comes to mind for cornbread, but perhaps it's time to give it a closer look. Using the slow cooker allows you the freedom to go run errands or to use your oven for other dishes. You can also use the slow cooker to turn cornbread into a delicious dressing or make the chili and cornbread together.
Basic Goodness
Whether you're using your favorite recipe or a store-bought mix, for a richer batter, use butter instead of vegetable oil. Pour the batter into a greased slow cooker, and cook on high for one to four hours until a toothpick inserted in the middle comes out clean.
Dressing It Up
Slow cooker cornbread dressing is a simple shortcut to making a delicious side dish for chicken and turkey. Saute diced onions and celery in butter in a large saucepan on the stove, and add sausage or other meat to cook through. Combine the sauteed ingredients, crumbled cornbread, spices, egg and chicken broth and cook in the slow cooker on low for up to four hours. If you're in a hurry, mix together crumbled cornbread, a can of cream of chicken soup, egg, raw diced onion and celery, and spices and pour into the greased slow cooker.
Spicing It Up
For an easy winter treat, combine cornbread mix, a can of creamed corn, some butter, eggs, sour cream, salsa and green chilies and cook in the slow cooker on high for two to three hours. Serve with your favorite chili. Or, cook both the chili and cornbread together in the same slow cooker. Prepare your chili, add to slow cooker and cook on low for eight hours. An hour before the chili is done, prepare cornbread batter, add a little grated cheddar cheese and chopped green chilies, then drop by spoonfuls on top of the chili and continue cooking.
Tips and Tricks For Success
Check the cornbread after an hour and again every half hour or so to test for doneness and to prevent the cornbread from burning. Cornbread cooked in the slow cooker may not have the same browned crust as when prepared in the oven, but can be placed under a broiler for a few minutes after removing from the slow cooker to brown. Using grease, oil or cooking spray in the slow cooker will help prevent sticking, but if you line the slow cooker with parchment paper, it will also make it easier to lift the cornbread out.
References
Not Your Mother's Slow Cooker Cookbook; Beth Hensperger and Julie Kaufmann
The 150 Best Slow Cooker Recipes; Judith Finlayson
Writer Bio
Bonnie Singleton has been writing professionally since 1996. She has written for various newspapers and magazines including "The Washington Times" and "Woman's World." She also wrote for the BBC-TV news magazine "From Washington" and worked for Discovery Channel online for more than a decade. Singleton holds a master's degree in musicology from Florida State University and is a member of the American Independent Writers.
Photo Credits
Jupiterimages/Stockbyte/Getty Images