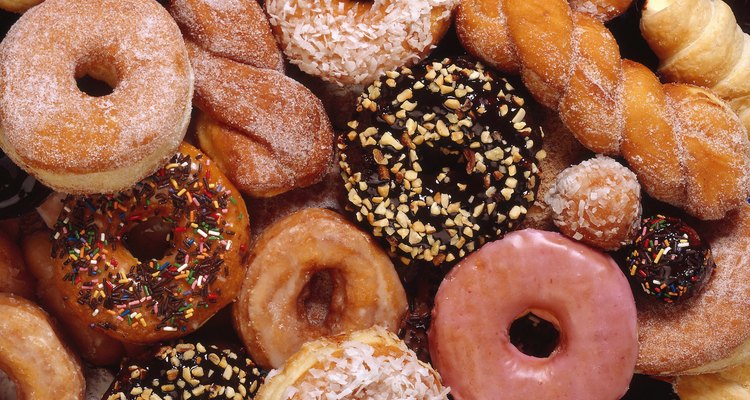 Brand X Pictures/Stockbyte/Getty Images
Though doughnut pans may seem to make things easier, you can also make equally attractive and delicious baked doughnuts without one. Both cake and yeast-raised doughnut can be baked, instead of fried, to reduce the amount of fat. Whether your style is more free-form or perfection-oriented, there's a doughnut-making technique for you that won't require you to buy a special pan.
A Cut Above
The typical doughnut pan produces circular doughnuts with the characteristic missing center. When you use either a doughnut cutter or circular cookie cutters, you get both a similar doughnut and the doughnut hole from the center. Doughnut cutters feature an outer, larger ring attached to an inner, smaller ring. Simply roll out your doughnut dough and cut out the doughnuts with the cutter. Alternatively, use round cookie cutters of differing sizes to cut out the outer and inner rings of the doughnuts. Arrange the doughnuts, with space between each one, on a baking sheet lined with parchment paper or a silicone mat. Bake them at the same temperature as you would with a doughnut pan.
Rolled and Beautiful
Ditch the center-missing doughnuts that pans typically produce and make round doughnuts that can be served as-is or filled. Divide your prepared dough into even portions. Pinch the tops of the dough sections together and roll the bottoms in a circular motion. Arrange the doughnuts, pinched side down with space between each one, on a baking sheet lined with parchment paper or a silicone mat, and bake. Alternatively, use a large round cookie or pastry cutter to cut out circles and arrange them on the sheet tray. This method will result in slightly flatter tops than the rounded pillows created by rolling.
Creative Shapes
When you bake your doughnuts on a baking sheet lined with parchment, you can create any shape you want. Try using novelty cookie cutters, such as stars, to make festive doughnuts. Cut the prepared dough into strips and fold them in half. Twirl the two strands around each other and pinch the ends together for doughnut twists. If you are baking several styles or shapes together at the same time, make sure to bake similarly sized doughnuts together, so they cook evenly.
Piped Perfection
Create long doughnuts, like churros or French crullers, by piping the dough. Fit a pastry bag with an open star pastry tip and fill it with the dough. Squeeze the bag and pipe the dough onto a parchment- or silicone mat-lined baking sheet in a straight line to create long strips that resemble churros. Or, pipe the dough in a circle, then pinch together the ends to create the crullers. Experiment with other pastry tips to vary the number of ridges in the dough. A French pastry tip will give you more ridges and a closed star tip will make the ridges more defined.
References
Baking and Pastry: Mastering the Art and Craft; The Culinary Institute of America
Resources
Writer Bio
Kathryn Roberts has worked in the culinary industry for nearly a decade in various roles, including pastry chef and bakery manager. After studying at the Culinary Institute of America, she earned her BFA from Goddard College and is pursing an MFA in Writing from Vermont College of Fine Arts.
Photo Credits
Brand X Pictures/Stockbyte/Getty Images