Tourists flock to French bakeries to savor pastries with a legendary history and popularity. Some enthusiasts aim to try all of them. There is a large variety of basic doughs, but there are a few categories that have been copied around the world and adopted into many cultures. From eclairs to savory puff pastry, the French have earned a well-deserved respect for their baking skills.
Eclairs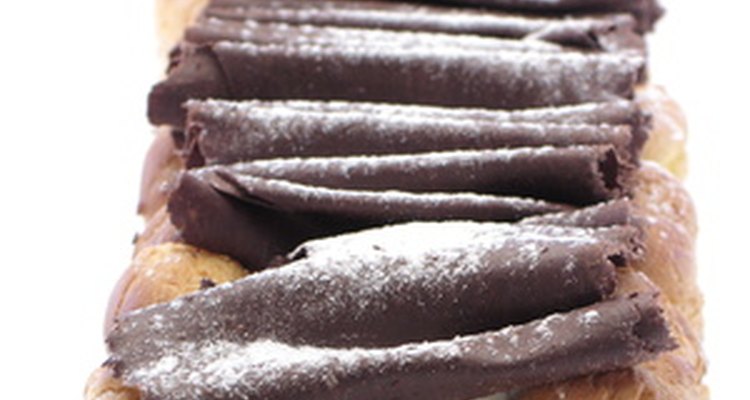 schoko kuchen mit eclairs image by Lucky Dragon from
Fotolia.com
An eclair is most easily described as a cream-filled, chocolate-covered, long doughnut. The body of the eclair is made from choux dough, which is a light pastry dough that is also used to make crullers and beignets, the classic, deep-fried doughnut of New Orleans' fame. Instead of using yeast, choux dough uses high moisture content to cause steam during the cooking cycle to puff the pastry. Eclairs are available in many creative combinations, including a chocolate pastry with coffee cream.
Macarons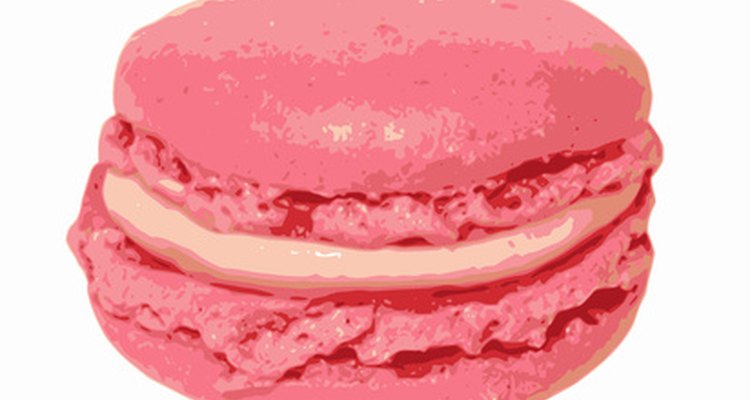 A macaron is a delicate French sandwich cookie filled with cream that was made popular in the 1900 at a Parisian pastry shop and café called Laduree. The macaron's crust is thin and light and the filling at the center is smooth and silky. Made in versatile combinations, one unique recipe calls for a pink, rose-flavored macaron filled with raspberry gel and rose-and-lichi cream.
Napoleons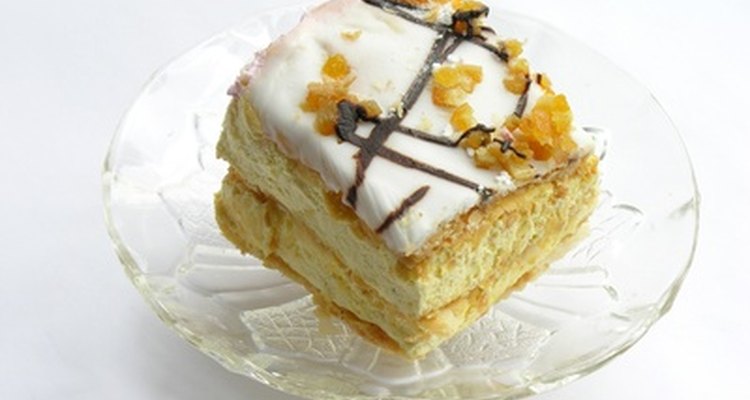 crisp
What makes a Napoleon so delicious is the layers of puff pastry interspersed with pastry or whipped cream and iced with fondant or chocolate or topped with confectioner's sugar. The Napoleon--referred to as "mille-feuilles" in France--has no defined origin. Theories range from a 17th century Danish royal pastry chef inventing it for Napoleon Bonaparte to the theory that the pastry was created in France and Napoleon so many Napoleons on the eve of the battle of Waterloo he lost.
Petits fours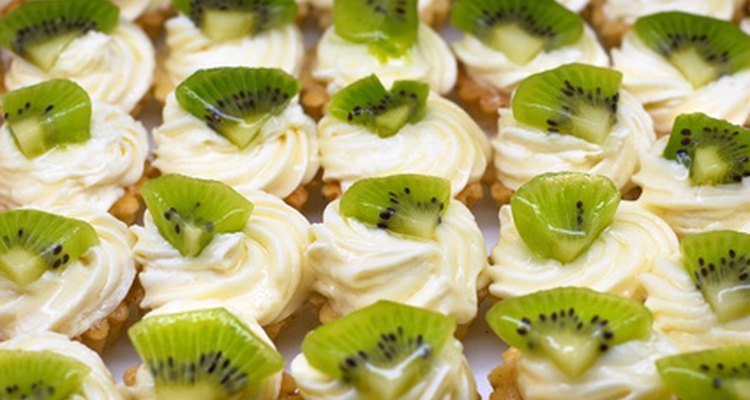 petit fours with kiwi image by starush from
Fotolia.com
A petit four is a dainty, individual dessert served on elaborate buffets or afternoon teas. The term is derived from a French word alluding to a pastry that needs to be cooked at a low temperature or "a petit four." Originally, petits fours were small fancy biscuits or cookies, cake or many other items of confectionary rendered in a diminutive size. Today the term "petits fours" more often refers to miniature layered cakes covered in chocolate or other fondant icings and delicately decorated.
Tarts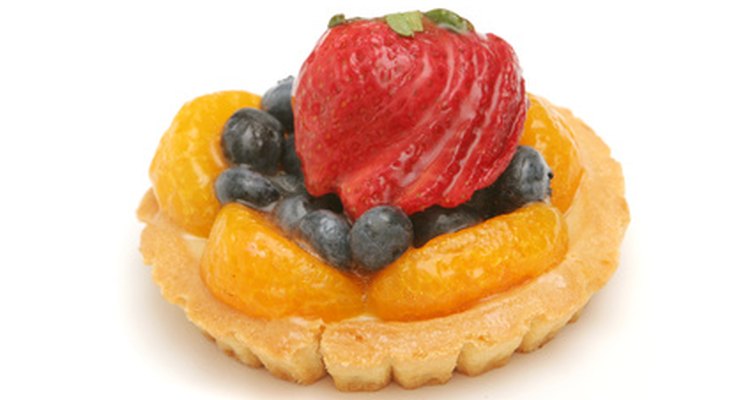 French pastry tarts are pate sucree shells filled with a versatile filling from lemon curd to a coffee cream. Pate sucree is a sweet pastry that resembles cookie dough that must be made in advance and allowed to mellow. Individual tart and tartlets are filled with a cream base and topped with fresh fruit that is covered by a sugar glace, giving this exquisite dessert a "jeweled" finish.
Savory Puff Pastry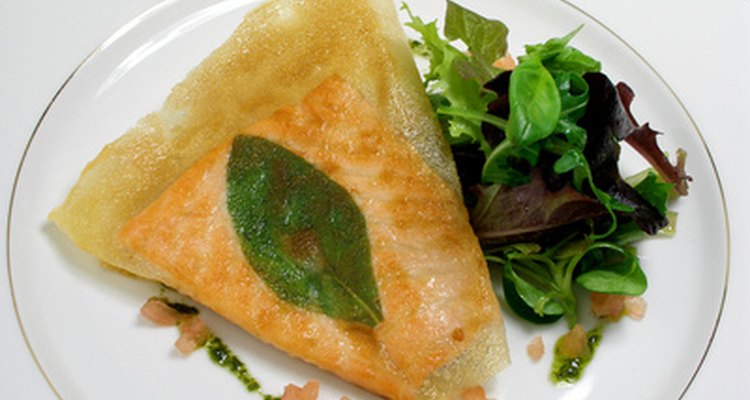 salmon fillet in phillo pastry with salad image by Chef from
Fotolia.com
The French craft a savory puff pastry or "pate brisee" that is less sweet, making it a good culinary base for meat mixtures and seafood. This pastry must be worked quickly to prevent the gluten in the flour base to develop, causing a less-than-perfect texture.
References
"Simply French"; Patricia Wells; 1991
"Mastering the Art of French Cooking, Vol. 2"; Julia Child and Simon Beck; 2009
Resources
"French Pastry"; Books LLC; 2010
Writer Bio
Based in eastern Virginia, Cathy Welch began writing nonfiction articles and novels in 1996. She wrote a short story that appears in John Maxwell's "Everyone Communicates, Few Connect." She writes reviews and nonfiction for Longridge Writer's Group. Welch holds a Bachelor of Science in business administration from Christopher Newport University with a concentration in management.
Photo Credits