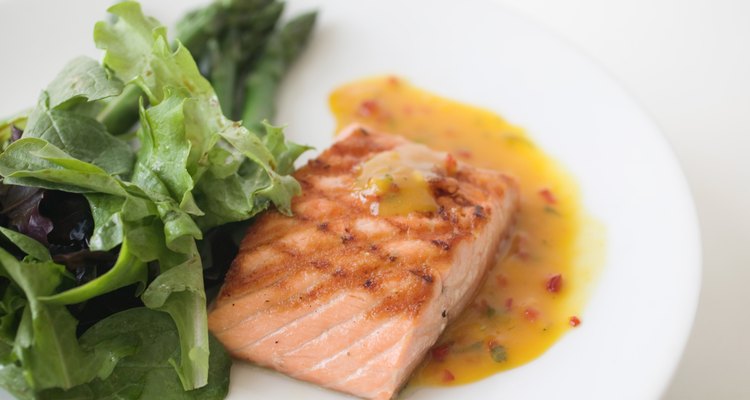 Creatas/Creatas/Getty Images
Sometimes, dinner depends on the ingredients you have on hand — and how much time you have to fuss. Worcestershire sauce isn't the most common enhancement for salmon, but your meal can turn out wonderfully if you use it with a light touch. Try pairing salmon and Worcestershire in two tempting ways.
Bake with Basic Bliss
Step 1
Set your oven to 400 degrees Fahrenheit.
Step 2
Combine enough olive oil to glaze the salmon with a dash or two of Worcestershire sauce and a squeeze of lemon juice in a bowl; stir. Enhance this basic mixture by adding some soy sauce and at least twice as much honey. Taste the mixture to ensure that you like it and adjust the ingredients accordingly.
Step 3
Spray a casserole dish with non-fat cooking spray and set the salmon inside. Sprinkle with some lemon-pepper seasoning, if you like. Baste the salmon with the Worcestershire mixture and put the dish in the oven.
Step 4
Cook the salmon for at least 6 minutes on each side, depending on the thickness. Test it by cutting into it with a fork; it should gently break away and flake easily.
Skewer that Salmon
Step 1
Turn your oven to broil. Arrange chunks of salmon on skewers along with vegetables such as onion, any color bell peppers and mushrooms.
Step 2
Place the skewers on a baking sheet sprayed with non-fat cooking spray. Place the skewers on the sheet and brush them with the basic Worcestershire sauce mixture from section 1.
Step 3
Broil the salmon kabobs for about 10 minutes, turning them after 5 minutes and basting them again.
References
Resources
Writer Bio
With education, health care and small business marketing as her core interests, M.T. Wroblewski has penned pieces for Woman's Day, Family Circle, Ladies Home Journal and many newspapers and magazines. She holds a master's degree in journalism from Northern Illinois University.
Photo Credits
Creatas/Creatas/Getty Images