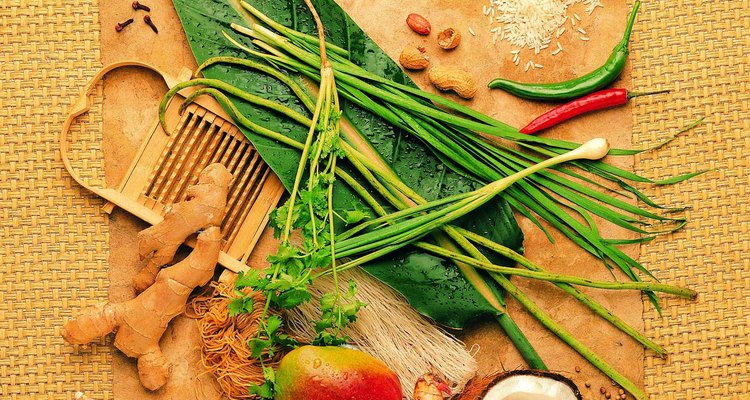 Stockbyte/Stockbyte/Getty Images
With a meaty texture that's firm enough to hold up to grilling, wahoo -- or "ono" as it is called in Hawaii -- is a flavorful, versatile fish that can be cooked in several ways. Wahoo belongs to the mackerel family and has a delicate, sweet flavor, with pale pink or white flesh that turns white when it's fully cooked. You can typically find wahoo as fillets or steaks, both of which can be cooked by sauteing, baking, broiling or grilling to create a delectable main dish.
Sauteed Wahoo
Step 1
Grab a large, heavy-bottomed skillet and begin heating it over medium-high heat. In the meantime, season the wahoo on both sides with salt and pepper and your choice of fresh or dried herbs. Wahoo pairs well with bell peppers, chiles, cilantro, citrus, onion, coconut and Cajun seasoning.
Step 2
Place your hand over the pan. If you can feel the heat, it's hot enough to add your cooking oil. Heat the cooking oil until it's shimmering.
Step 3
Saute the wahoo ono for about two minutes before turning it with a spatula. Continue cooking it for another two to four minutes, or until the flesh is opaque and white and flakes when you test it with a fork.
Baked Wahoo
Step 1
Line a baking sheet with foil and turn the oven on, setting it to 350 degrees Fahrenheit to start heating it up.
Step 2
Season the fish on both sides. Although you can just keep it simple with salt and pepper, you can also mix a little fat and citrus together to make a tasty sauce-like coating for the wahoo. For example, combine mayonnaise, lemon juice, lime juice, relish and chopped chives to coat the fish.
Step 3
Place the seasoned wahoo on the baking sheet, wrapping the foil around it to form a parcel or packet. Keep the parcel on the baking sheet and place it in the oven.
Step 4
Bake the wahoo for 30 to 40 minutes, or until the flesh is opaque and white. Remove it from the oven, take it out of the foil and serve.
Broiled Wahoo
Step 1
Adjust your oven rack so that it's roughly 4 or 5 inches away from the heat. Turn the broiler on and preheat it for five to 10 minutes.
Step 2
Prepare a basting sauce to season your wahoo. Combine a fat, such as melted butter or olive oil, with an acid such as citrus juice or wine. Mix that with your favorite herbs and brush it onto the fish.
Step 3
Place the fish in a single layer on the pan and place it in the oven. Broil the wahoo for five minutes before turning and basting it and broiling it for another five minutes. You'll know that it's done when the fish is opaque and flakes lightly when you test it with a fork.
Grilled Wahoo
Step 1
Set your grill on medium heat and start heating it up. Brush the grates with a grill brush.
Step 2
Oil both sides of the fish lightly with your favorite cooking oil or with nonstick cooking spray before seasoning it.
Step 3
Grill the wahoo over direct, medium heat for roughly eight to 10 minutes, turning the fish halfway through. Remove from the grill and serve.
References
Tips
Marinate the wahoo for about 30 minutes before you start cooking it to infuse the fish with extra flavor. For example, combine olive oil, citrus juice, paprika and crushed red pepper to create a zesty, simple marinade.
Writer Bio
Caryn Anderson combines extensive behind-the-scenes writing experience with her passion for all things food, fashion, garden and travel. Bitten by the travel bug at the age of 15 after a trip to Europe, Anderson fostered her love of style and fashion while living in New York City and earning her degree at New York University.
Photo Credits
Stockbyte/Stockbyte/Getty Images