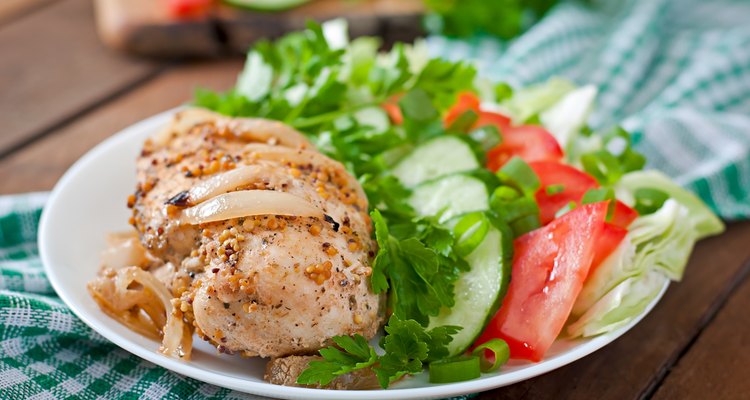 Elena_Danileiko/iStock/Getty Images
When you broil meat in your oven, it's not the actual heat that cooks it so quickly. It's your oven's superheated broiler element that radiates infrared energy, according to "On Food and Cooking" by Harold McGee. The Flavorwave oven uses a less intense version of infrared cooking, which allows you to cook larger cuts than a broiler. The heat generated is circulated by a fan, making the Flavorwave a convection oven as well.
Adjust the rack of your Flavorwave to 4 inches from the heat source.
Season your chicken breasts with salt and pepper. If you're using skinless breasts, brush them lightly with olive oil to protect them from the oven's intensity.
Lay your chicken breasts on the Flavorwave's rack and replace the dome. Press the time set button and rotate the start button, setting it for 18 minutes.
Press the power button. The Flavorwave will display the default cooking temperature of 400 degrees Fahrenheit. Press start to begin cooking.
Test the chicken breasts with an instant-read thermometer after the oven beeps to signal the end of its cycle. It should read 165 degrees Fahrenheit at the thickest part of the breast. If not, set the time for another 3 to 5 minutes to finish cooking them.
References
On Food and Cooking: The Science and Lore of the Kitchen: Harold McGee
Tips
The Flavorwave will cook frozen chicken breasts in about 25 minutes. If the chicken breasts weigh 4 ounces, you may need to reduce cooking time. If they weigh at least 8 ounces, you'll need to increase it.
Writer Bio
Fred Decker is a trained chef and prolific freelance writer. In previous careers, he sold insurance and mutual funds, and was a longtime retailer. He was educated at Memorial University of Newfoundland and the Northern Alberta Institute of Technology. His articles have appeared on numerous home and garden sites including GoneOutdoors, TheNest and eHow.
Photo Credits
Elena_Danileiko/iStock/Getty Images