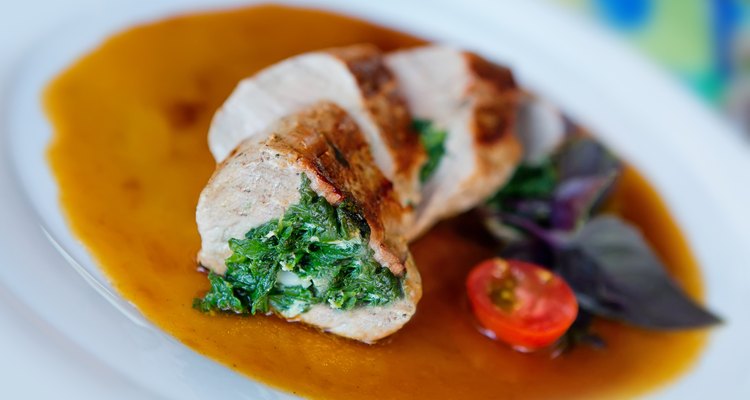 Zoonar/P.Jilek/Zoonar/Getty Images
The FlavorWave oven combines halogen heat, infrared waves and convection cooking technology with the aim of providing users an alternative to ease the cooking process. The oven cooks a variety of different foods ranging from main course dishes to desserts. The benefits of cooking a pork loin roast in the FlavorWave oven include not only a quicker cooking time, but you don't have to heat up your whole house to get the job done.
Season your pork loin roast to taste. Combine oil, salt, pepper, thyme, rosemary, basil, garlic powder or other spices you like in a small bowl. Rub the mixture over the body of your pork loin roast.
Place the pork loin roast in the FlavorWave oven using the upper rack. Make sure you leave at least a 1/2-inch space between the pork loin roast and the side of the glass bowl.
Secure the lid on the FlavorWave Oven.
Set the timer to 29 minutes per pound of the pork loin roast if it is fresh. Set for 34 minutes per pound if it is frozen.
Set the thermostat by turning the knob clockwise to 360 degrees Fahrenheit and turn on the FlavorWave by pushing the safety handle down until it clicks to the "On" position. Press "Start."
Remove the lid and place it on the lid holder when the timer chimes. Turn the handle up to the "Off" position.
Use tongs to remove the upper rack from the FlavorWave oven.
Confirm the pork loin's doneness by testing for an internal temperature of 163 degrees Fahrenheit.
References
Writer Bio
Katina Coleman is a research psychologist who has been writing since 2004. She has published and reviewed articles in various academic journals and consults on research projects related to health and education. Her research interests center on patient-doctor communication and cancer health disparities. Coleman holds a Ph.D. in psychology from Wayne State University.
Photo Credits
Zoonar/P.Jilek/Zoonar/Getty Images