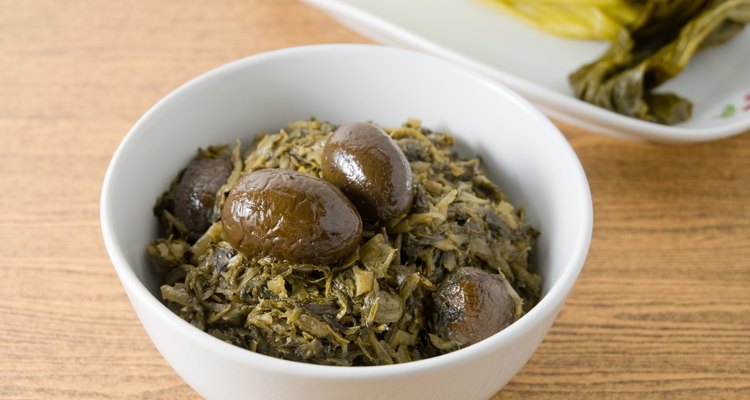 Arayabandit/iStock/Getty Images
Collard greens are a leafy green vegetable that is related to kale. Collards are high in fiber and vitamins A and C. Because leafy greens like collards are high in calcium, they are an important food for people who don't eat dairy products. They are also a staple of Southern cooking. They are frequently cooked slowly, which makes them perfect to cook in a slow cooker. This leaves your stove top free for cooking other dishes.
Place the ham hock in your slow cooker and add enough water that it comes about a third of the way up the side of the cooker.
Cook the ham hock on low for two hours, or until it is hot and the water has taken on the flavor of the ham.
Wash the collard greens thoroughly. Using a sharp knife, remove the stems from the leaves and discard them. Chop the leaves into 2-inch pieces.
Add the collard greens to the water a handful at a time, allowing them to wilt slightly so the entire pound of collards fits into the slow cooker.
Continue cooking on low for four to six hours, or until the greens are as tender as you like them to be. Drain and season with salt and pepper to your taste.
References
Writer Bio
Kimberly A. Smith has been a freelance writer for two years. She graduated from the University of California at Davis and the California Culinary Academy, then pursued a career baking wedding cakes. During her time at CCA, she received certification in nutrition and food safety. She currently attends the University of Oregon School of Law.
Photo Credits
Arayabandit/iStock/Getty Images