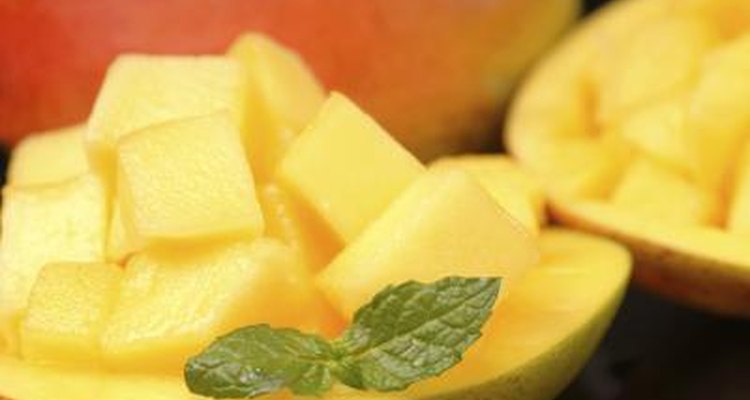 David Smith/iStock/Getty Images
Mangoes are a tropical fruit that originated in Southeast Asia. In the United States, mangoes are imported primarily from Mexico, Haiti, the Caribbean and South America. The calories in mangoes come primarily from their sugar content. Fresh mangoes are a good source of vitamins A and C and fiber. They contain less than 1 gram of fat and are low in sodium and cholesterol-free.
Sugar in Fresh Mangoes
One cup of fresh mango contains 99 calories, 24.7 g carbohydrate and 2.6 g fiber. The carbohydrate content includes 22.5 g of naturally-occurring sugar. This sugar is an important energy source for your body. When you consume carbohydrates in the form of sugar or starch, they are broken down and converted to glucose. Glucose is the body's preferred form of energy, especially for the brain and central nervous system. Mangoes are also a good source of vitamins and minerals.
Vitamins and Minerals
Fresh mangoes are an excellent source of vitamin C, with a 1-cup serving providing 100 percent of the recommended dietary intake for this nutrient. Vitamin C is an antioxidant that promotes healthy teeth and gums, helps the body absorb iron and promotes wound healing. Mangoes are also an excellent source of vitamin A, providing 36 percent of the daily recommended intake. Vitamin A is essential for normal vision, gene expression, reproduction, embryonic development and immune function. Mangoes provide 18 percent of the recommended intake for folate, which helps in the production of red blood cells and DNA, and prevents neural tube defects. Mangoes are a fair source of vitamin K and the minerals copper and potassium, with 8 to 9 percent of the recommended daily intake for each.
Dried Mangoes
Dried mangoes are a more concentrated source of sugar. Just a third-cup serving contains 27 grams total carbohydrate, with 2 grams fiber and 25 grams sugar. Also, dried mangoes are not as rich as fresh mangoes in vitamins and minerals. A third cup serving provides only 9 percent of the recommended daily intake for vitamin C and 7 percent for vitamin A, making them a fair source of these nutrients. Dried mangoes contain only small amounts of folate, vitamin K, copper and potassium.
Mango Nectar
A 1-cup serving of mango nectar contains 33 grams carbohydrate, with 31 grams sugar and less than 1 grams fiber. Nectar is also an excellent source of vitamins C and A, providing 63 and 35 percent of the recommended daily intake, respectively. However, it contains only small amounts of folate, vitamin K, copper and potassium.
References
Writer Bio
Catherine Cox started writing in 1989. She has been published by "Nutrition and the M.D." and "Consultant" and has written client education materials for health-care organizations. A dietitian and diabetes educator, Cox holds a Master of Public Health in nutrition science from the University of California, Los Angeles.
Photo Credits
David Smith/iStock/Getty Images