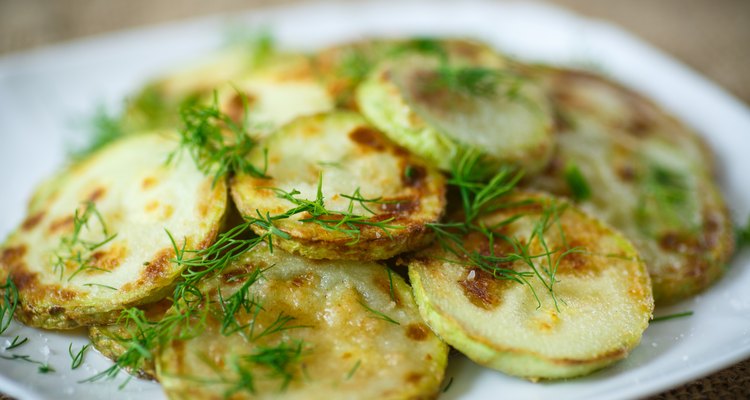 peredniankina/iStock/Getty Images
Pattypan, or scalloped, squash is a disk-shaped summer squash approximately 3 to 4 inches in diameter with scalloped edges. The best-tasting pattypan are young and tender and harvested at the beginning of their maturity, when the skin color transitions from light green to white. The flavor of pattypan is buttery and mild; preparation is relatively simple because the peel is soft and edible, and removing it is not required before cooking it on the grill.
Salt Seasoning and Water Removal
Pattypan squash holds a significant amount of moisture, which can dilute the flavor if left unmodified. Cutting pattypan into 1/2-inch slices and seasoning with salt draws out the excess moisture and prepares them for grilling. After applying salt to the slices, place them in a colander over a bowl at room temperature for half an hour prior to grilling. Salting squash also reduces the amount of oil it absorbs, which is useful for keeping marinades on the outside of the squash, where it protects its moisture from evaporating while cooking.
Marinade
Adding marinade or a dressing is an option that enhances flavor. Scoring the flesh of the pattypan slices in a cross-hatch pattern is a measure that improves flavor absorption. The addition of a simple thyme- or oregano-infused olive oil applied with a pastry brush facilitates the browning of the squash flesh and adds a dimension of flavor to its mild character.
Grilling
After the squash are salted and seasoned, grilling them is the next step. Set the temperature of a gas grill to the highest setting or heat a charcoal grill to medium, and cook pattypan slices for approximately two minutes on each side. The lightly browned flesh will indicate when the squash is cooked.
Dishes and Complementary Ingredients
Serving grilled pattypan squash alongside grilled steak, pork loin, salmon or tuna, with other grilled vegetables, such as eggplant and asparagus, provides a traditional summer grilling menu. Dicing grilled pattypan and tossing it with tomato, lima beans and fresh corn kernels applies its flavor to a complex medley of ingredients in this festive summer dish.
References
"The New Food Lover's Companion"; Sharon Tyler Herbst and Ron Herbst; 2007
Writer Bio
Based in Richmond, Va., Tara Carson has written articles for editorial and corporate online and print publications for more than 10 years. She has experience as an adjunct professor of nutrition at Northwest Christian University and holds a Bachelor of Science in journalism and nutrition from Virginia Commonwealth University.
Photo Credits
peredniankina/iStock/Getty Images