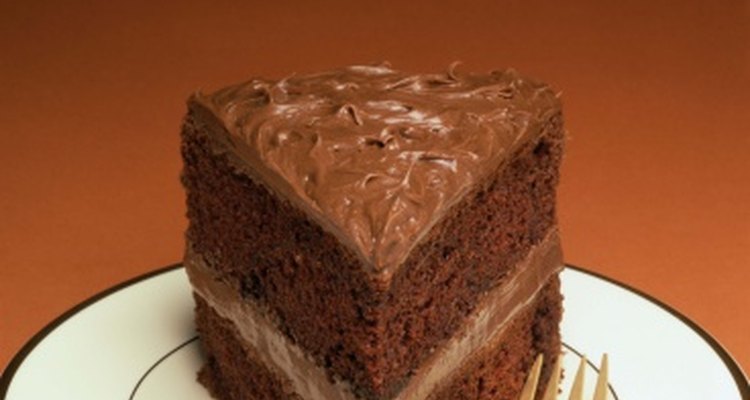 Jupiterimages/Comstock/Getty Images
Although baking a small cake for two people sounds like an easy task, making small portions can be difficult. On the bright side, you can try recipes that are new to you both, with very little risk. Baking a cake for two allows you to be adventurous with very little downside. This delicious recipe for a dense, moist chocolate cake is a perfect example. It is small enough for two people to eat in one to two days, whereas a larger cake would definitely last longer, but get stale. Why throw away such delicacies?
Instructions
Add the all-purpose flour, sugar, hot water, Hershey's cocoa, baking powder, baking soda, melted butter and the beaten egg, one by one in a bowl. Mix well after each ingredient is added. The final product should be thoroughly mixed.
Preheat the oven at 350 degrees. Pour the mixture in a well-greased, square 8-inch baking pan. Place the pan in the oven and bake at 350 degrees for 30 to 35 minutes, or until the cake tests done with a toothpick in the middle.
Cool the cake on a wire rack. Dust 1/2 cup of confectioner's sugar on top of the cake. Cut it into squares for easy serving.
References
Tips
The toothpick test is performed by taking a toothpick and inserting it in the middle of the cake. If the toothpick comes out clean, the cake is ready.
Frosting this cake with buttercream frosting is a good idea.
Writer Bio
Joe Lewis started writing professionally in 2010 for various websites. He holds a Master of Science in nutrition and dietetics.
Photo Credits
Jupiterimages/Comstock/Getty Images