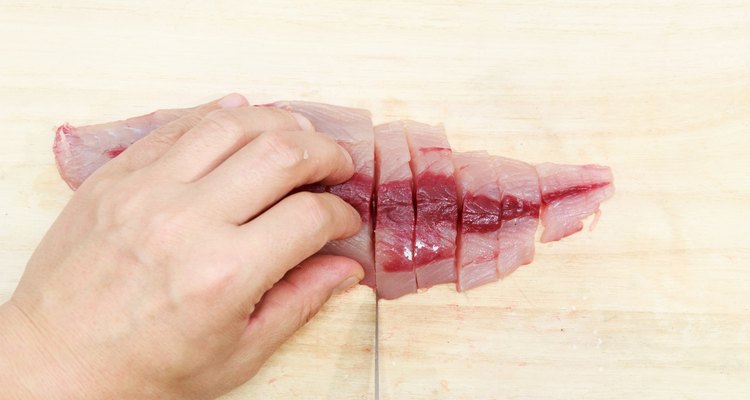 stella_photo20/iStock/Getty Images
Whole, pan-fried yellowtail snapper is a specialty in many Cuban restaurants. Yellowtail have an edible skin that crisps beautifully in hot oil, and a meaty fillet that is tender and flaky. The fish require some preparation to ready them for frying, but the results are well worth the effort. Yellowtail snapper taste similar to red snapper, but their appearance is different. Yellowtail snapper have a rosy pink body with yellow stripes and a yellow tail.
Rinse the fish thoroughly under cool water to remove any traces of blood.
Cut three 1-inch slits in the skin on each side of the snapper. This prevents the skin from shrinking and curling as it fries.
Place the flour in a bowl with salt and pepper. Dredge the fish through the flour, thoroughly coating the inside as well as the outside of the fish.
Heat the vegetable oil on high heat to about 375 degrees F.
Place the fish in the skillet and fry for five minutes on each side, or until the fish is golden brown and crispy inside and out.
Remove the fish and place it on a plate covered with paper towels. Cut into one of the fish; the flesh should be flaky and opaque all the way through.
Serve hot alone, or top each with 1/4 cup mango chutney.
References
Writer Bio
Natalie Smith is a technical writing professor specializing in medical writing localization and food writing. Her work has been published in technical journals, on several prominent cooking and nutrition websites, as well as books and conference proceedings. Smith has won two international research awards for her scholarship in intercultural medical writing, and holds a PhD in technical communication and rhetoric.
Photo Credits
stella_photo20/iStock/Getty Images