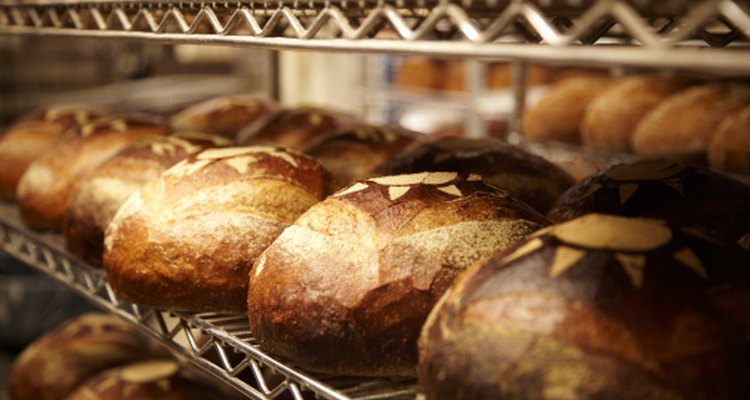 Thomas Northcut/Photodisc/Getty Images
Some people cannot eat wheat because they are allergic to it. If this is the case for you, you might experience itchy eyes, nasal congestion, hives and swelling in your mouth or throat, as well as additional symptoms whenever you eat wheat. Others cannot have wheat because they have a sensitivity to the protein gluten. "A 100 percent gluten-free diet is the only existing treatment for celiac today," explains the National Foundation for Celiac Awareness. Celiac disease is an autoimmune digestive disease that affects about 3 million Americans. However, you can still bake up a fragrant loaf of wheat-free bread.
Saute 3 tbsp. sesame seeds in 3 tbsp. unsalted butter in a saucepan for about 4 minutes, or until they are browned. Set them aside.
Stir 1/2 tsp. gelatin into 2 tbsp. of cold water in a small bowl. Let it sit for about 5 minutes or until it becomes soft.
Mix 1 tsp. sugar and 1/2 cup warm water in a large bowl. Add 2 1/4 tsp. yeast and leave it for about 5 minutes or until it foams. Whisk in 2 eggs, 1 tbsp. molasses and 1/4 cup buttermilk, as well as the gelatin and sesame seeds you already prepared.
Combine 1/2 cup tapioca flour, 6 tbsp. chickpea flour, 1/4 cup almond flour, 1/4 cup amaranth flour, 1/4 cup sorghum flour, 1/4 cup coconut flour and 2 tbsp. potato flour, 2 tbsp. yellow cornmeal, 2 tbsp. cornstarch, 3/4 tsp. fine sea salt and 1 1/2 tsp. xanthum gum in an electric mixer bowl with the paddle attachment.
Add the wet ingredients to the dry ones and beat for about 4 minutes on high speed, then scrape the bowl and continue to beat for 1 minute.
Put the dough into the bread pan and create a flat top with a spatula. Cover the pan loosely with plastic wrap and leave it for about 1 hour while it rises to the top of the pan.
Whisk 1 egg with 1 tsp. water. Brush this mixture on the top of the risen dough and sprinkle 1 tbsp. sesame seeds on top.
Cook the bread in the middle of an oven preheated to 425 degrees Fahrenheit for around 30 minutes. Take the bread loaf out of the pan, then put it straight on the oven rack and cook it for another 15 minutes.
References
Tips
Instead of using so many different types of flours, you can buy gluten-free flour made with no wheat or use one kind of non-wheat flour.
Writer Bio
Sharon Therien has been writing professionally since 2007. She specializes in health writing and copywriting for websites, blogs and businesses. She is a Certified Yoga Teacher and a Reiki Master with a Certificate in Fitness and Nutrition. Therien has a Master of Arts in sociology from Florida Atlantic University.
Photo Credits
Thomas Northcut/Photodisc/Getty Images