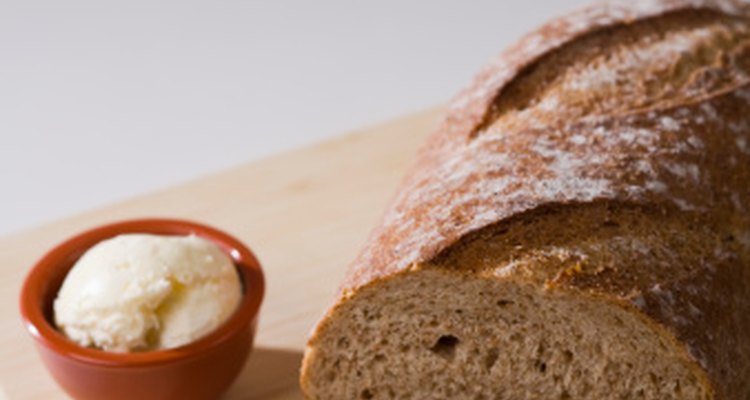 Jupiterimages/Comstock/Getty Images
There are a few reasons you might want to bake a loaf of bread with millet. Millet is a whole grain, which means any loaf made with it is likely to have a better nutritional value than a loaf made with standard, all-purpose flour. According to the U.S. Department of Agriculture, just 1 cup of millet has about 17 g of fiber. You might also value millet's pleasantly nutty flavor and crunchy texture, especially in an otherwise dense loaf of bread. If you're gluten intolerant or have celiac disease, use millet flour to bake a whole-grain loaf that won't aggravate your sensitivities.
Toast the millet before baking with it. Place 1/2 cup of uncooked millet in a dry skillet and toast the grain over medium heat for several minutes. Check the millet constantly and shake or stir it often to prevent it from burning. When the millet is uniformly golden and becomes slightly aromatic, take it off the heat.
Combine the toasted millet with 1 cup of whole-wheat flour, 2 cups of all-purpose flour, 1/4 cup of brown sugar, one package of active-dry yeast, 1/2 tbsp. of salt, and 1 3/4 to 2 cups of warm water. Knead the dough with your hands, a bread machine or a stand mixer with a dough-hook attachment for five to 10 minutes or until it's smooth.
Top the dough bowl with plastic wrap or a damp towel and let the dough rise in a warm place for about two hours or until it's puffy but not necessarily doubled in size.
Grease a standard 9-by-5-inch loaf pan. Take the risen dough out of the bowl, pat it down lightly and form it into a rectangle. Fold it into thirds, like a business letter, and tuck the ends underneath. Place the dough in the loaf pan.
Cover the pan with plastic wrap or a damp towel once again and let the dough rise for 45 minutes to one hour or until it's puffy and nearly above the rim of the loaf pan. During the last 10 to 15 minutes of rise time, preheat your oven to 375 degrees Fahrenheit.
Bake the loaf for 40 to 50 minutes or until it's brown and firm on top. Let the bread cool for several minutes before tipping it out of the pan.
References
Tips
To make gluten-free millet bread, use a mixture of millet flour, oat flour, tapioca flour and brown-rice flour instead of traditional wheat flour, and add xanthan gum to encourage the bread to rise.
Writer Bio
Carly Schuna has been freelance writing and editing for more than a decade. In the lifestyle sector, her specialty areas are wellness, food/drink, and entertaining. With hundreds of recipes and nutrition-focused articles in her portfolio, Carly loves helping readers put a healthy spin on classics in the kitchen without sacrificing taste.
Photo Credits
Jupiterimages/Comstock/Getty Images