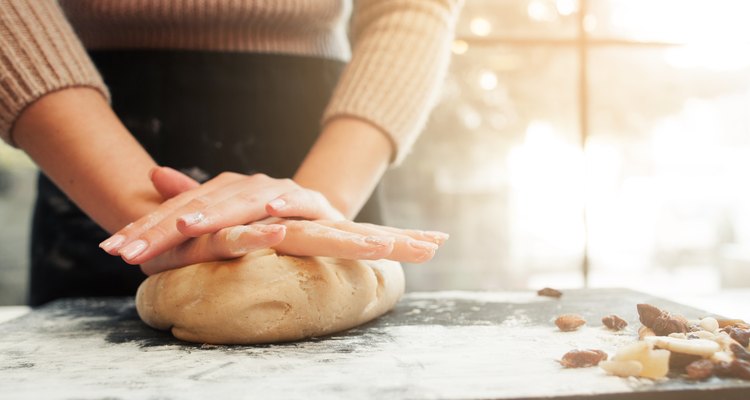 golubovy/iStock/GettyImages
A Reasonably Quick Homemade Bread Recipe with Minimal Kneading
True artisan bread uses a lovingly cultivated starter culture that may rise over the course of days. But you can make homemade bread with considerably less time and effort using instant, or quick rising yeast, which does the job in just a couple of hours thanks to smaller particles that dissolve and get to work more quickly. When you use instant yeast, your bread may have a slightly yeasty flavor, but that can be part of the appeal of homemade loaves versus store-bought. Instant yeast also shortens the amount of hands-on kneading, leaving you extra time and attention for work and family. The bread dough in this recipe does take a few hours to rise, but you can do other things while it's rising, and even leave it while you run errands.
Your homemade bread will develop a lovely hard crust if you bake it on a baking or pizza stone, but don't worry if you don't have one; you'll still get far more appealing results than the typical grocery store loaf.
Total time: 3 1/2 hours | Prep time: 15 minutes | Servings: 8
4 1/2 cups unbleached white flour

2 cups whole wheat flour
3 packets (1 1/2 tablespoons) instant yeast
1 1/2 tablespoons kosher salt

3 cups water,

wrist-temperature
Mix the two types of flour, yeast and salt. Slowly add the water. Mix as much as necessary to form a smooth dough, but no more.
Cover the bowl with a damp towel or plastic wrap and let stand for about two hours in a warm (but not hot) place, until it's fluffy and about doubled in size.
Transfer the dough to a floured surface and work it with your hands for a few minutes, pressing it down, flipping it over and pressing it down again until it's somewhat firm and no longer sticky.
Heat the oven to 450F. Remove the upper oven rack and place the pizza stone on the lower rack. Place a small heat-safe bowl of water in the oven as well.
Divide the dough into two oiled loaf pans and let it rise 40 minutes longer.
Make three cuts in the top of each loaf. Place the loaf pans with the risen dough on the pizza stone and bake for 30 to 40 minutes, until the tops of the loaves start to brown.
References
Writer Bio
Devra Gartenstein is a self-taught professional cook who has authored two cookbooks: "The Accidental Vegan", and "Local Bounty: Seasonal Vegan Recipes". She founded Patty Pan Cooperative, Seattle's oldest farmers market concession, and teaches regular cooking classes.