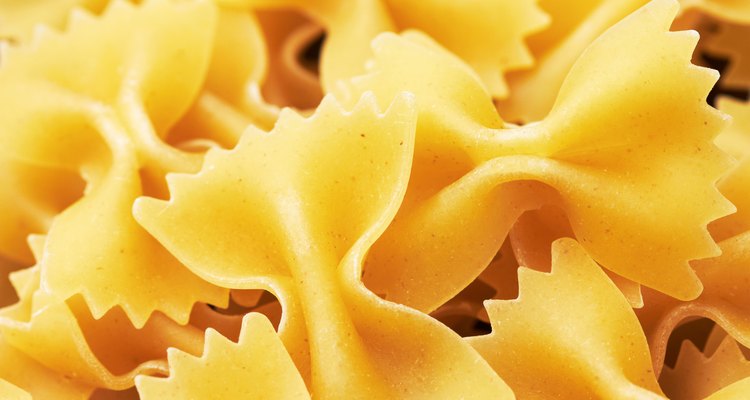 Volodymyr Krasyuk/iStock/Getty Images
Noodles cinched in the middle in the shape of an old-fashioned bow tie are an excellent way to make pasta night a little more fancy. Although whole-wheat and white noodles have the same calorie count, opt for the whole-wheat pasta because it has more fiber for a heart-healthy meal.
Wheat Vs. White
A 2-ounce serving of bow tie pasta -- which is equivalent to 3/4 cup dry or 1 1/4 cups cooked -- has 210 calories whether you choose whole-wheat or white noodles. But whole-wheat noodles have much more dietary fiber than white -- 6 grams vs. 2 grams -- and 2 grams more protein at 9 grams. Both types of pasta have 1 gram of fat per serving, so the calories from fat are negligible.
Keeping It Light
Whole-wheat bow tie pasta is an easy ingredient for a healthy meal. Mix cooked noodles with sauteed vegetables and a drizzle of olive oil, or top them with marinara sauce and a sprinkle of low-fat Parmesan cheese.
References
Writer Bio
Carolyn Robbins began writing in 2006. Her work appears on various websites and covers various topics including neuroscience, physiology, nutrition and fitness. Robbins graduated with a bachelor of science degree in biology and theology from Saint Vincent College.
Photo Credits
Volodymyr Krasyuk/iStock/Getty Images