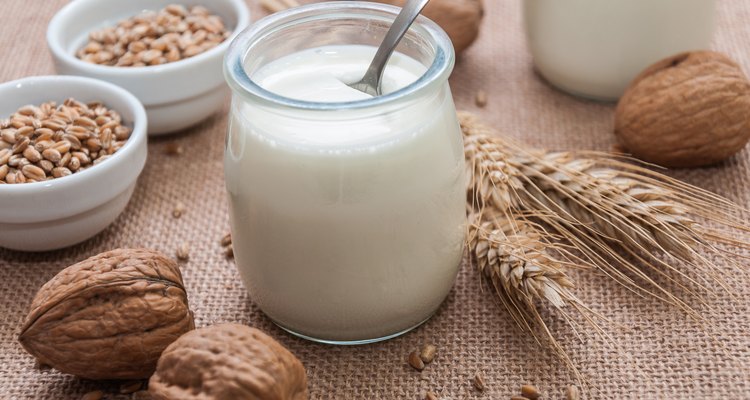 Mariamarmar/iStock/Getty Images
Dairy products are considered any food that comes from the mammary glands of mammals. Dairy foods supply calcium, vitamin D and protein to the diet. Many studies have confirmed that consuming adequate amounts of calcium through dairy can minimize bone loss and thereby decrease the risk of osteoporosis. The U.S. Department of Agriculture's MyPlate website now recommends people over the age of 9 consume three servings of dairy products per day. A serving of dairy, however, varies depending on the type of dairy you are consuming.
How Milk Measures Up
A serving size of milk is 1 cup, or 8 ounces. One serving of skim milk contains 86 calories and 8 grams of protein, while one serving of whole milk contains 103 calories and the same amount of protein. The size of the milk cartons given out in school lunches is equivalent to one serving of milk. A serving of canned evaporated milk is 1/2 cup, and a serving of powdered milk is 1/3 cup.
Yogurt Types
The serving size of yogurt depends on the type of yogurt. One serving of nonfat Greek yogurt is 6 ounces, contains approximately 100 calories and a whopping 18 grams of protein, whereas the serving size of regular nonfat yogurt is 8 ounces, has around 100 calories and 11 grams of protein. A proper serving size of nonfat frozen yogurt is 1/2 cup; calories can differ depending on flavor and brand.
Doling Out the Cheese
The serving size of cheese also varies depending on type. One serving of nonfat string cheese is 0.75 ounces, while softer cheeses like cottage cheese have a 4-ounce serving size. A serving of a hard cheese like cheddar or Monterey Jack is 1.5 ounces, about the size of four stacked dice, while 1 ounce of pasteurized processed American cheese counts as one serving and provides 30 percent of the recommended daily amount of calcium.
Get the Scoop
Ice cream is a dairy food to be consumed in moderation because of the high sugar and fat content. Four ounces, or 1/2 cup, about the size of half a baseball, is equivalent to one serving.
References
Writer Bio
Megan Ware is a registered dietitian nutritionist who runs her own weight loss and healthy-living practice in Dallas. She has previously worked as a hospital clinical dietitian specializing in gastrointestinal disorders and also has experience working as the lead dietitian and group fitness instructor for a popular weight loss resort. Ware holds a Bachelor of Science in dietetics from The Ohio State University, where she graduated cum laude.
Photo Credits
Mariamarmar/iStock/Getty Images