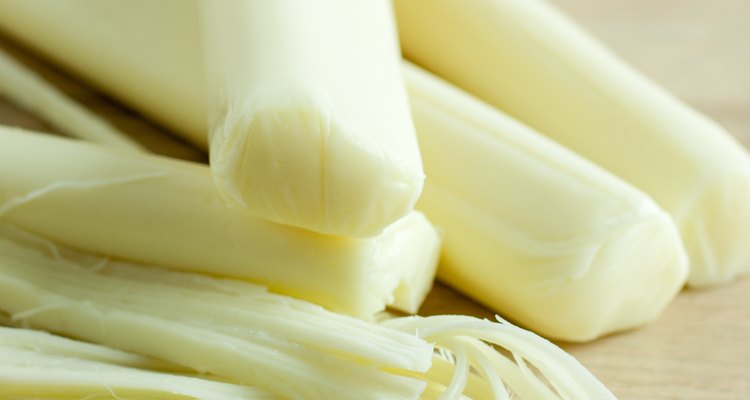 SouthernLightStudios/iStock/Getty Images
A snack found in many packed school lunches, cheese sticks can be nutritious for children and adults alike. Cheese sticks come individually wrapped for easy transport and provide calcium and other nutrients.
Calorie Content
In one Kraft mozzarella cheese stick, there are 80 calories, according to My Fitness Pal. There are 6 g of total fat, 1 g of carbohydrate and 8 g of protein. This value will vary depending on the product brand and type of cheese used. Low-fat cheese sticks typically contain fewer calories and less fat.
Nutrition Information
One cheese stick contains 20 mg of cholesterol and 220 mg of sodium, and may not be a healthy option for individuals striving to cut back on total sodium intake. One cheese stick can also provide 4 percent of the daily value of vitamin A and 15 percent of calcium, based on a 2,000-calorie diet.
Dairy Recommendations
Cheese sticks are a part of the Milk, Yogurt and Cheese group. The USDA recommends that adult men and women strive for three cups or servings of dairy each day. Two cheese sticks count as one dairy serving.
References
Writer Bio
Alexis Jenkins writes to motivate others in areas of health including nutrition, fitness training and improving lifestyle choices. She graduated with a Bachelor of Science in health science from Brigham Young University-Idaho.
Photo Credits
SouthernLightStudios/iStock/Getty Images