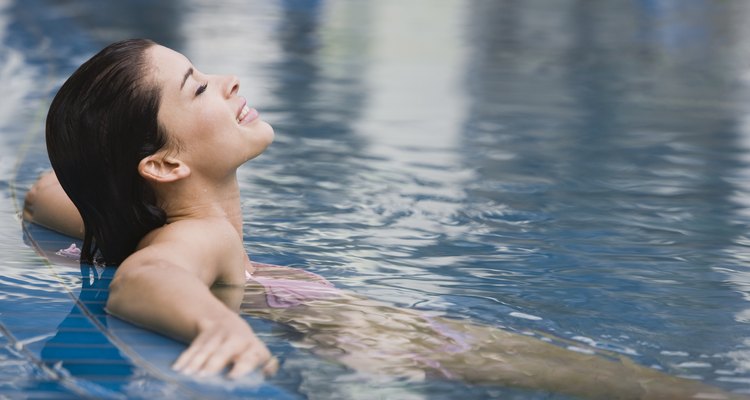 Comstock Images/Stockbyte/Getty Images
Before you take a dip in the pool this summer, don't forget to protect your tresses from the bacteria-killing chemicals lurking beneath the water's surface. It's true: A pool filled with chlorine can be harsh on your hair, especially if your hair is color treated. This color-lifting agent and pool water treatment can turn blond hair green and make every hair color look dull and dried-out. To remove chlorine that has already been deposited, use products designed to rid hair of chemicals and impurities.
Rinse out your hair with club soda immediately after swimming in a chlorinated pool. Cosmopolitan magazine notes that this is a more effective way of removing chlorine than rinsing hair with tap water.
Wash your hair with a clarifying shampoo to get rid of deposited chlorine. Elle magazine recommends a shampoo that contains essential oils and botanical extracts, as well as vinegar. This shampoo claims to clean your hair and remove any residue, while also softening and strengthening it. It promises to be safe for every hair type, including hair that is color treated. Use this shampoo once a day until all of the chlorine has been removed from your hair, and then switch to using it every other day. This will prevent more chlorine from being deposited on your strands, while also helping to preserve your hair color.
Spray your hair all over while it is still damp with a hydrating spray. This will protect your color treated hair from the damaging and drying effects caused by chlorine, the sun and other environmental factors, according to Cosmopolitan.
Apply a deep conditioner designed for color-treated hair once a week to prevent the fading that chlorine can cause. Cosmopolitan recommends a conditioning gloss that promises to make your hair color look healthier and last longer, as well as help to preserve it between visits to your colorist. Apply this conditioner from your hair's roots to its ends, and then rinse thoroughly.
References
Tips
Wear a swim cap while spending time in the pool to protect your hair from exposure to chlorine.
On the days you don't wash your hair, combine a volumizing conditioner with water and massage it onto your scalp. This will freshen your hair without fading your color or weighing hair down.
Writer Bio
Lynne Sheldon has over 12 years of dance experience, both in studios and performance groups. She is an avid runner and has studied several types of yoga. Sheldon now works as a freelance writer, editor and book reviewer. She holds a Bachelor of Arts in English and art history from Boston University and recently completed her Master of Fine Arts in writing from Pacific University.
Photo Credits
Comstock Images/Stockbyte/Getty Images