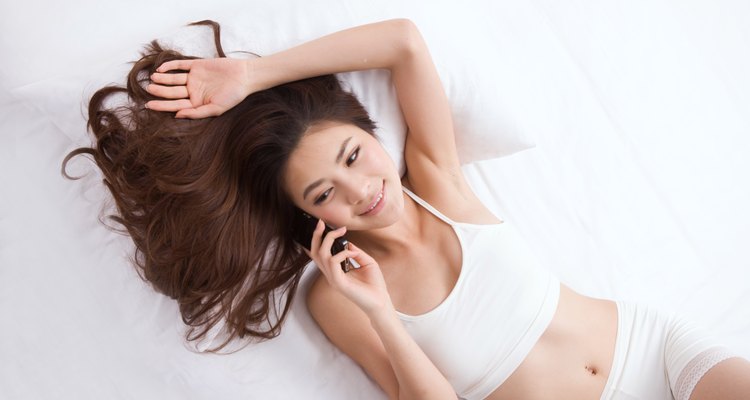 View Stock/View Stock/Getty Images
Professionals and beauty-conscious individuals have used one of the cheapest deep-conditioning treatments available, cholesterol, for decades. Although it is most often found in the ethnic hair-care section, cholesterol may be used on all hair types and individuals without fear of buildup or greasy residue. Cold and thick, cholesterol smears on the hair with the consistency of petroleum jelly, but the product quickly becomes malleable once heat is applied, and it rinses easily away with warm water.
Uses
Cholesterol is used as a deep-conditioning treatment. It helps strengthen and heal damaged hair, and adds moisture and shine to lifeless locks. The thick consistency of cholesterol makes it ideal for alternative, pesticide-free lice treatment as well.
Application
After applying a liberal amount of the cholesterol conditioner, stylists cover the hair with a plastic cap to prevent the product from drying out. Heat, garnered from a hooded or hand-held hair dryer, is applied evenly over the cap to warm the conditioner and help the product penetrate the hair shaft. Generally, the heated portion of the treatment lasts 15 to 20 minutes. At home, most people rinse the hair immediately after the timer rings, but salon treatments come complete with a scalp massage.
Massage
Cholesterol becomes soft and malleable with heat. After removing the heat, stylists professionally massage the scalp, neck and shoulders as part of the treatment. Individuals at home can perform massage as well. Small circular motions work best, helping to work the conditioner into the scalp where it alleviates dryness and itching.
Removal
It can be difficult to remove cholesterol from the hair. Although it is recommended to merely rinse the treatment away, many people have to use a mild shampoo to completely remove the conditioner.
Frequency
The frequency of treatment depends primarily on the condition of the hair. Normal hair requires treatment every other week, whereas chemically treated hair requires weekly treatment. Severely damaged hair, or hair experiencing breakage, can be treated daily with cholesterol to improve strength and manageability.
References
"Milady's Standard Textbook of Cosmetology"; Milady, Diane Carol Bailey and Margrit Attenburg; 2008
Writer Bio
Kathy Mayse began her writing career as a reporter for "The Jackson-County Times Journal" in 2001. She was promoted to assistant editor shortly after. Since 2005, she has been busy as a successful freelancer specializing in Web content. Mayse is a licensed cosmetologist with more than 17 years of salon experience; most of her writing projects reflect this experience.
Photo Credits
View Stock/View Stock/Getty Images