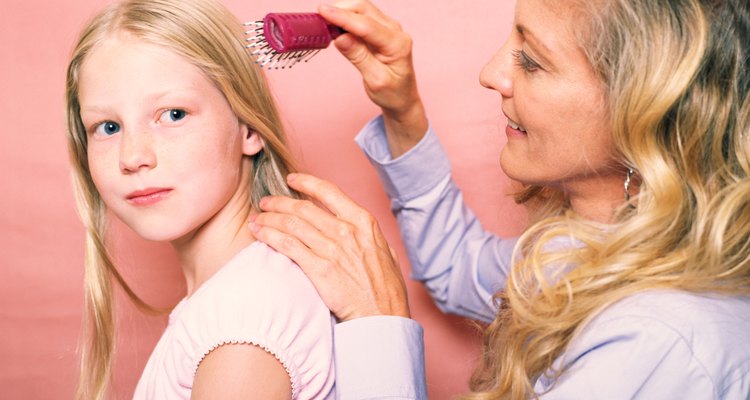 Brand X Pictures/Brand X Pictures/Getty Images
Whether due to an illness or due simply to stress, hair loss or thinning hair in children can be remedied by a few over-the-counter products available at most drug stores. Here are a few hair thickening products for children you might consider.
Hairotene
Hairotene is a vitamin tablet that children can take 3 times daily with either juice or water to strengthen and thicken hair. It contains beta carotene, vitamin E, and amino acids, and should be taken on a regular basis for 6 to 12 months to see best results.
Pantene Full and Thick Shampoo
Pantene Full and Thick Shampoo is one of the least expensive and highly ranked products for hair thickening. It should be used daily as your child's regular shampoo for best results.
Kérastase Lotion Densitive GL Thickening Treatment
Kérastase Lotion Densitive GL Thickening Treatment should be sprayed on damp hair from roots to ends after shampooing. It calms and soothes the scalp and texturizes the hair fibers, making the hair appear fuller.
Dermaray Laser Comb
Cold RED lasers are frequently used for the treatment of hair loss and promotion of hair regrowth, and it is this technology that makes the Dermaray Laser Comb so popular. It can be used as a regular comb as it emits temperature-monitored laser modules that may cause hair regrowth and thickening. It is safe for children and adults.
References
Writer Bio
Jennifer Brister a freelance writer located in Northeast Louisiana. She has enjoyed careers as an educator, a nuclear lab technician and a massage therapist. Her writing can be found in several publications, including "The Circle," "Carbon Cotton Magazine" and "Fashion Advantage Magazine." She has been employed as a professional freelance writer for three years.
Photo Credits
Brand X Pictures/Brand X Pictures/Getty Images