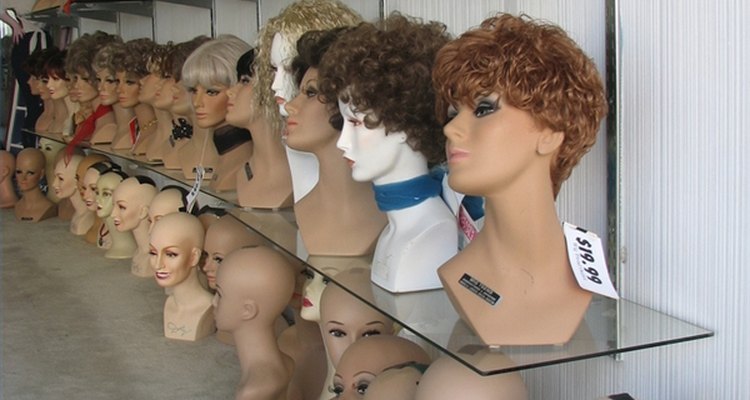 austrini/flickr.com
Synthetic hair is big business. Think about Cher, Dolly Parton, Tyra Banks and Christina Aguilera. The entertainment industry has been employing hair enhancements for years. Today, synthetic hair extensions and wigs are mainstream. Celebrities as well as mere mortals have the option of changing hairstyles almost as easily as donning the latest clothing trends. Synthetic hair is lightweight and easy to care for, making it a popular choice for the fashionista or anyone wishing to improve her appearance. Various types of synthetic hair are now trendy alternatives to natural hair.
Features
Synthetic hairs are man-made fibers that closely resemble natural hair strands. Synthetic hair is commonly made from kanekalon or toyokalon fibers. Kanekalon is a light, long-lasting synthetic fiber that withstands repeated washings and low-temperature heat styling. The downside to kanekalon is its tendency to tangle and mat. Toyokalon is a softer synthetic hair fiber that tangles less, but lacks the natural look and color of kanekalon fiber. Monofiber (monofibre) is the highest quality synthetic hair, with a realistic look and feel. Monofilament hair behaves more like natural hair than the other synthetic hair fibers.
Uses
Synthetic hair is a popular choice for wigs in theatrical productions and the novelty industry. Synthetic wigs and extensions have numerous practical applications as well. Those suffering from hair loss due to medical conditions and chemotherapy depend on synthetic wigs and hairpieces in their everyday lives. Synthetic hair extensions are employed by stylists to add fullness and body to limp, thinning hair. Wigs, extensions and hairpieces made from synthetic hair are also used for strictly aesthetic purposes.
Prices
When compared to natural hair wigs, hairpieces and extensions, synthetic hair is very affordable. Monofiber hair is the most expensive, but it is a fraction of the price of luxurious, real hair products. Kanekalon is moderately priced and toyokalon is the least expensive of the better quality synthetic hair fibers. Price also varies according to the manufacturer, the overall size of the hairpiece and the length of the fibers.
Advantages
Synthetic hair is widely available from online sources, salons and costume shops. Custom synthetic wigs and extensions can be ordered through wig shops to meet the preferences and needs of an individual. Affordable hairpieces manufactured from synthetic fibers give the wearer the option of owning more than one. Synthetic hair is available in a variety of natural and vibrant colors.
Disadvantages
Synthetic hair does not last as long as natural hair wigs. Synthetic hairpieces are not as versatile as real hair. Many synthetic wigs are pre-styled and produced to retain the original look. Great care must be taken when attempting to color-treat synthetic hair. Many synthetic wigs and extensions cannot be styled with a dryer or curling iron. Synthetic fibers cause minor skin irritations in some wearers. Even the finest quality synthetic hair cannot replicate the actual appearance or texture of natural hair.
References
Writer Bio
Linda Chechar is a writer with more than 20 years of career experience in print and broadcast media, advertising, real estate and retail home decor. She holds a Bachelor of Arts in journalism from Northwestern State University. Her content is currently featured on a variety of websites and blogs.
Photo Credits