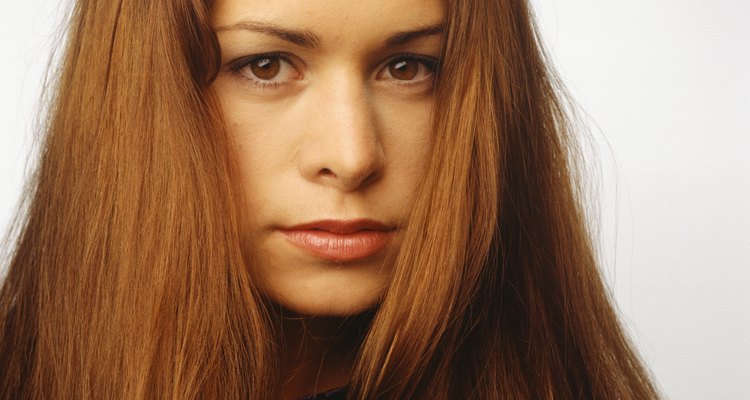 Kevin Peterson/Photodisc/Getty Images
Acording to TLC Style (See Reference 1), until the early 1900s, hair dye was made from a variety of herbs and natural ingredients. It was in 1909 that French chemist, Eugene Schuller, created the first safe commercial hair color based on the chemical, paraphenylenediamine. Hair dyes today are filled with a number of different chemical ingredients and the two that are common in almost all hair dyes are hydrogen peroxide and ammonia. Garnier Nutrisse contains these ingredients for their effectiveness in providing rich, lasting color, while also including avocado oil with vitamin E and grape seed oil for their health benefits on the hair.
Chemical Ingredients
As in many common hair coloring, Garnier Nutrisse contains hydrogen peroxide, which helps to initiate the color-forming process and creates color that lasts on the hair, according to TLC Style. Larger amounts of this ingredient in the dye will remove more sulfur from the hair, which is beneficial for the hair because loss of sulfur causes the hair to harden. There is also ammonia found in Garnier Nutrisse, which serves as a lightening agent when permanent hair color mixes with the hydrogen peroxide. Ammonia separates the cuticle and allows the hair color to penetrate the hair follicle.
Avocado Oil
According to Buzzle.com (See Reference 2), avocado oil has a number of benefits for hair. The oil is extracted from pulp of the avocado and has a light consistency that makes it easy to penetrate the scalp. Avocado oil helps thinning hair, dandruff and dry hair. It contains essential nutrients such as proteins, vitamins A, D, E and B6, iron, and folic acid, which are important for hair growth and overall health. Avocado oil also has natural sunscreen properties that help to protect the hair and scalp from the sun.
Grape Seed Oil
Garnier Nutrisse hair dye also contains grape seed oil, which is an odorless oil that is rich in vitamins and minerals that help to strengthen hair. Grape seed oil also helps to add shine and moisture to your hair, according to CareFair.com (See Reference 3). Grape seed oil has a high content of linoleic acid, which is an important fatty acid that supports cell health and is effective in strengthening and growing hair. According to Balance of Nature (See Reference 4), grape seed oil also helps to relieve brittleness, breakage and split ends on your hair.
References
Writer Bio
Amy Pellegrini began writing professionally in 2005 and has since published various articles, press releases, blogs, poems and features on a number of topics. Pellegrini holds a Bachelor of Science in journalism from California Polytechnic State University in San Luis Obispo, Calif.
Photo Credits
Kevin Peterson/Photodisc/Getty Images