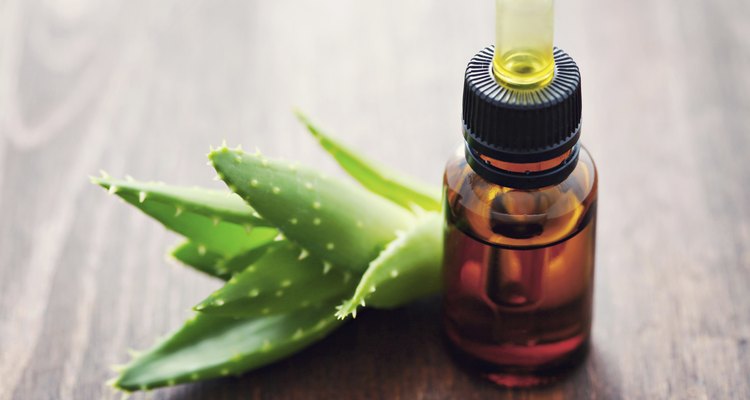 matka_Wariatka/iStock/Getty Images
Aloe vera is a natural product used for a number of medicinal purposes including the topical treatment of minor wounds and skin inflammation. The aloe vera plant produces a clear gel from inside its leaves with a cooling effect. While there is little clinical data to demonstrate aloe vera as an ingredient for a hair conditioner, Care2.com states that in her book, "Naturally Healthy Hair," author Mary Beth Janssen provides a formula for aloe vera hair conditioner that may seal in moisture and improve hair quality.
Slice a lemon in half, and squeeze out the juice into a mixing bowl.
Add 1/4 cup aloe vera gel to the bowl, and mix the two ingredients together. While you can purchase aloe vera gel, you can also simply slice the plant's leaves upward and scoop out the pure gel with a spoon.
Select essential oils to add with the conditioner, based on your hair type. According to Care2.com, chamomile and lavender work well for normal hair; basil, lemon, rosemary and patchouli are appropriate for oily hair; and myrrh or peppermint is good for dry hair. Add three to five drops of the selected essential oils, and mix the ingredients.
Shampoo hair, and apply the conditioning mixture from the bowl. Dip your fingers into the conditioner, and work it through hair, beginning at the scalp and moving over the hair strands.
Leave the conditioner on for five minutes, and then rinse out with warm water. For an added touch, give your hair one final rinse with cool water to enhance shine.
References
Writer Bio
Writing since 1999, Darla Ferrara is an award-winning author who specializes in health, diet, fitness and computer technology. She has been published in "Mezzo Magazine" and Diet Spotlight, as well as various online magazines. Ferrara studied biology and emergency medical technology at the University of Nebraska and Southeast Community College.
Photo Credits
matka_Wariatka/iStock/Getty Images