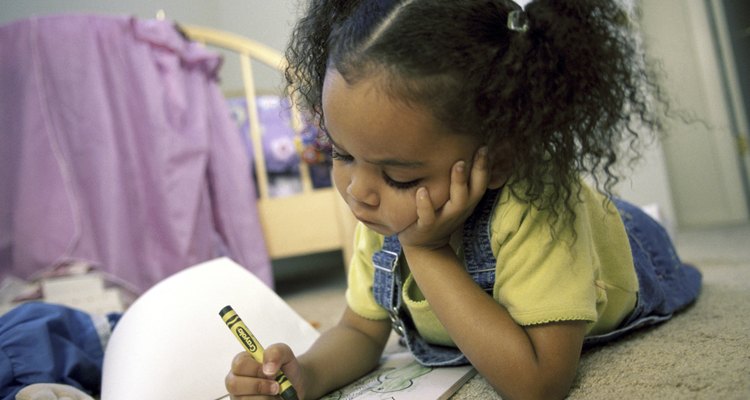 Purestock/Purestock/Getty Images
African-American hair has diverse textures and types. It is mostly curly and dryer than other hair types, thus requiring special hair care. Natural shampoos are better for African-American children hair because they contain special ingredients, such as natural herbs, that can grow and promote pliable, shiny hair. Because of the nature and fragility of African-American hair, Nicole M. Hewitt, M.S.W, recommends washing your child's hair no more than every seven to 10 days.
Healthy Hair Care Techniques
Frequent washing removes natural oils from the hair and can cause breakage. When shampooing hair, gently massage scalp with the ball of your fingertips. This will cleanse and sooth your child's scalp. Always condition hair after washing it, suggests Hewitt. Blot, do not rub, hair with a towel. Rubbing causes breakage. If your child wears braids, use natural products with rosemary, jojoba oil, sage or lavender to cleanse your child's scalp and hair.
Ingredients to Choose
Hewitt recommends using mild, moisturizing shampoos with a balanced ph of 5. This is closest to the natural environment of the hair and scalp. Peppermint oil works to cool your child's scalp from scratching and other irritants. Lavender is an antiseptic and antibiotic that stimulates hair growth and degreases hair. Rosemary has antioxidant and anti-inflammatory benefits. It works as a tonic and conditioner and will give your child's hair luster and body. Sage also functions as a conditioner and tonic. Jojoba oil, rosemary, lavender, sage or calendula will cleanse the exposed scalp and hair and fight microbial agents.
Ingredients to Avoid
Avoid products with alcohol. These products dry hair out and can cause breakage. Keep away from products with harmful chemicals such as sodium lauryl sulfate, or SLS, and sodium laureth sulfate, or SLES, according to Hewitt. Some of these ingredients have been used in antifreeze, cleansers and lab testing and are known to cause hair weakening and seborheic dermatitis.
Recommendations for Conditioning and Moisturizing
Avocado is easily absorbed by the hair, improves thickness and shine and is rich in vitamins A,B,D and E, based on healthy hair information from essence.com. Horsetail is an herb containing calcium and high levels of amino acids that strengthen the hair. Shea Butter is a fat acquired from the fruit of the Karite tree and it moisturizes and nourishes the hair and scalp.
Natural Shampoo Recipes
This herbal hair recipe is for any hair type and has ingredients recommended for African-American children hair. You will need 1/4 cup distilled water, 1/4 cup liquid castile soap, 1/2 tbsp. jojoba, light vegetable oil or grape seed, 3 tbsp. rosemary, 1 tbsp. lemon grass, 2 tbsp tea oil and 1/2 tbsp. vanilla extract. Add the rosemary and lemon grass to boiled water. After you have strained the rosemary and lemon grass tea leaves, let it cool. Add the remaining ingredients to the mixture, stir and store tightly in a sealed jar or bottle until you are ready to use it.
References
Writer Bio
Charmaine Jones began freelance writing in 2010, specializing in health, diet and nutrition. She has experience with writing and editing grants and has written publications for nonprofit organizations. Jones holds a Master of Public Health in health promotion from the University of South Carolina.
Photo Credits
Purestock/Purestock/Getty Images