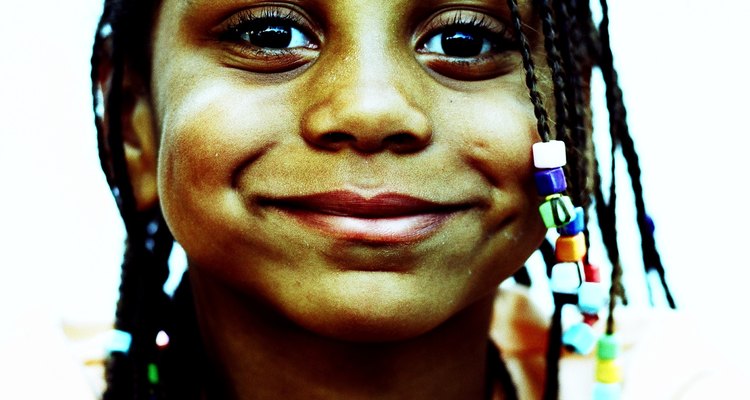 Photos.com/Photos.com/Getty Images
Since hair comes in all sorts of textures, thickness and colors, it can't be treated the same across the board. African-American hair is more coarse and kinky than other types of hair, and it contains less water and breaks easier. Taking extra time and care in selecting the correct hair care products and procedures for your child's hair will be repaid with less fuss, complaining and tears.
Brushing and Combing Technique
Brushing and combing your child's hair should be approached with care to avoid pain and frustration. Wet the hair with a spray bottle to make the brushing or combing process easier. Use a rattail comb to separate the hair into sections and hold the separated hair in place with hair clips. Use a wide toothed comb to smooth hair and prevent tangles. A pick can be used to detangle hair. If you want to brush the hair, opt for a soft to medium boar bristle brush, as these are gentler compared to synthetic bristle brushes.
Cleansing Ritual
African-American hair tends to dry out and break easier than other types of hair. For this reason, wash your child's hair less frequently to retain much-needed moisture. Use a shampoo that has a pH level of 5 to 6.5 and only wash the hair once every week or two. Thoroughly wet your child's hair, divide it into sections using hair clips and shampoo from the scalp toward the ends. Work the shampoo into the hair in a gentle back-and-forth motion with your fingertips, instead of tangling the hair by swirling the shampoo in circles. Rinse hair thoroughly. Use a clarifying shampoo once every four to six weeks to remove build-up in the hair. Avoid shampoos with alcohol and lauryl or laureth sulfate, which can strip your child's hair of its natural oils and dry it out.
Conditioning
This particular type of hair needs extra moisture so you should always follow a shampooing session with a conditioner, as well as applying a moisturizer on non-shampoo days. After shampooing, work in sections to apply an African-American hair conditioner at the scalp and work your way toward the ends. Cover the hair with a shower cap and leave it on for about 15 minutes before rinsing the hair well and squeezing out excess water. Use a blow dryer on your child's hair to smooth it out and make styling easier on both of you. Applying a light, natural oil, like jojoba, coconut, olive, lavender, sage or sweet almond oil to the scalp and hair while the hair is dry will keep it shiny, moisturized and less frizzy.
Accessories
You can't forget the hair accessories for your child. Buy a plethora of rubber bands, preferably the cloth-covered or tangle-free kind. If you're having trouble removing a rubber band that is already in place, cut it with small scissors instead of trying to pull or yank it out. Barrettes, hair pins and hair clips are a must if you have a little girl. Scarves and caps work well on those inevitable bad hair days.