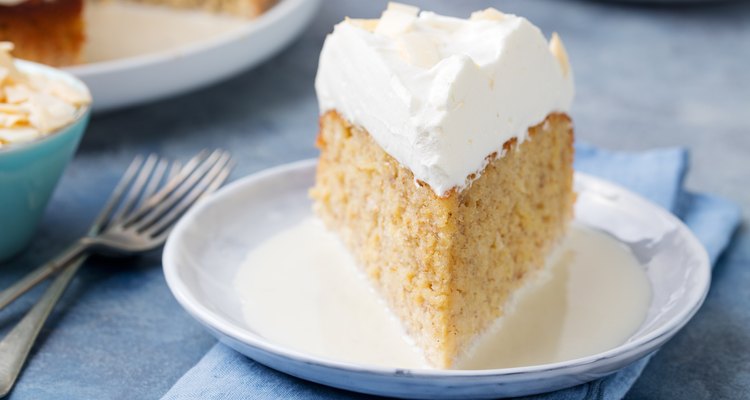 AnnaPustynnikova/iStock/GettyImages
Go Wild Over This Spongy Traditional Mexican Dessert
The traditional Mexican cake Tres Leches usually calls for a lengthy procedure that includes separating the eggs, whipping the egg whites and then hand-whipping the whipped cream topping. However, you can take some shortcuts that will get this cake in the oven in 10 minutes and still have your family gasping with delight.
Although you can serve this cake on a weeknight for a fun family surprise (Wednesday hump day comes to mind), it's also sumptuous enough to take proudly to a potluck or to celebrate a special occasion.
Total Time: 45 minutes | Prep Time: 10 minutes | Serves: 8 to 10
1 box white cake mix,

15 to 16 ounces
3 large eggs 1/4 cup canola oil or 1/3 cup butter, softened 1 cup water or 2 percent milk 1/2 teaspoon vanilla extract 1 1/2 cup heavy cream, divided
1 can evaporated milk, 12 ounces 1 can sweetened condensed milk, 14 ounces 1/2 tablespoon sugar
Heat oven to 350F and grease a 9-by-13-inch baking pan.
In a large bowl, beat the eggs.
Add the water or milk, oil or butter and vanilla extract, then mix on high for 3 minutes until the batter is smooth and silky.
Pour batter into pan and bake for 30 to 35 minutes or until a fork inserted into the middle comes out clean.
Using a skewer or toothpick, poke holes in the top of the cake – don't worry about poking too many, as these holes will be the conduit for the cake's three-milk topping to soak fully into the cake, which is the whole point.
Cool the cake in its pan for 20 to 30 minutes.
Make the three-milk topping. In a small bowl, whisk together 3/4 cup cream, evaporated milk and condensed milk. Slowly pour this topping over the cake, evenly covering the holes.
Cool the cake in the refrigerator for at least one hour to ensure that the milk is fully absorbed, or overnight.
In a small bowl, add the remaining 3/4 cup cream and 1/2 tablespoon sugar, and beat until the cream holds it shape, creating peaks (2 to 3 minutes).
Top the cake with the whipped cream, and serve.
References
Writer Bio
Lynne Pettus has worked in the communications field for more than 20 years, most recently as a technical writer and editor in the software industry. She has a Bachelor of Arts in journalism from USC.