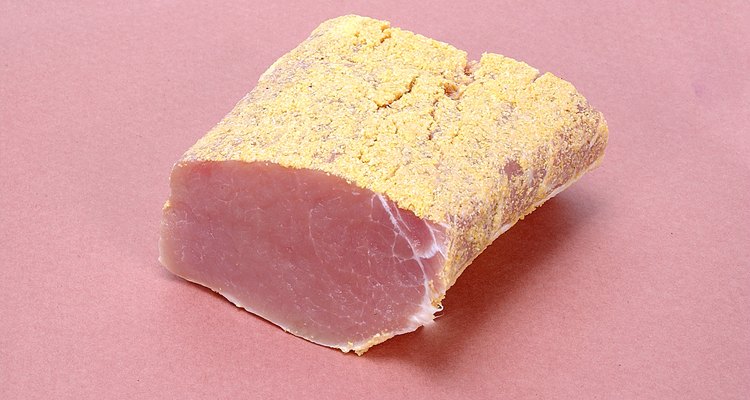 Jupiterimages/Photos.com/Getty Images
Pork fillet is a naturally lean and tender cut of meat that cooks quickly and pairs well with a variety of side dishes and wines. Because it is low in fat, pork fillet is easy to overcook and dry out. Consequently, cooking frozen pork requires giving the meat a little more attention than usual while it's in the oven. Pork fillet is often served with apples or citrus, but its neutral flavor blends exquisitely with any white sauce, tomato or mango salsa, sweet root veggies and even bitter greens.
Step 1
Preheat the oven to 325 degrees Fahrenheit. Drizzle the pork fillet with olive oil, making sure to cover all sides. The oil will congeal upon contact with the frozen fillet, but this is okay.
Step 2
Season the fillet aggressively with salt, pepper and any assortment of herbs and spices you fancy.
Step 3
Transfer the fillet to the large rimmed baking sheet. Place the baking sheet on a middle rack in the oven. Roast for 40 to 60 minutes.
Step 4
After approximately 40 minutes of cooking, insert a meat thermometer into the thickest part of the pork fillet. When the meat thermometer reads 145 F, remove the pork fillet from the oven. Let it rest at least 15 minutes before serving.
References
Resources
Tips
If the pork fillet begins to brown too quickly around its edges, then cover it lightly with foil.
Slice the cooked fillet into thin medallions and enjoy pork fillet sandwiches for brunch the next day.
Warnings
Don't cook frozen pork fillet in an oven hotter than 325 F. The outside may cook too quickly and the inside not at all.
Writer Bio
Born in New York City, Tremaine Jackson has been in theater, dance and music since age 12, when he appeared in Liz Swados' "Swing" at the Brooklyn Academy of Music. He is also an award winning children's recording artist. He writes fiction and poetry in his spare time.
Photo Credits
Jupiterimages/Photos.com/Getty Images