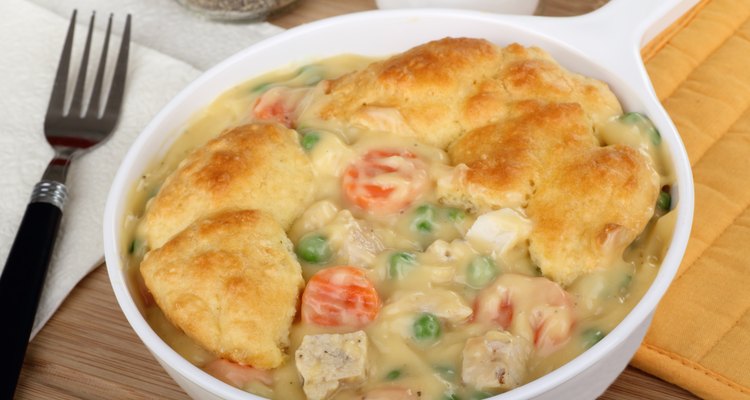 chas53/iStock/GettyImages
Enjoy Southern Comfort Food Without All the Effort
Chicken and dumplings is the ultimate Southern comfort food, but making it from scratch isn't always the quickest or easiest thing to do. After all, who has time to make dumplings from scratch and make the chicken on a busy night with the kids clamoring for dinner? Fortunately, you can still enjoy the delicious homemade taste of this dish without all of the hard work.
This recipe makes use of condensed soup, pre-prepared chicken and biscuit dough to save you time and trouble, while allowing you to quickly make a dish that will taste like you slaved over it for hours. And making the dumplings from the biscuit dough is so much fun that you can get the children involved when rolling them out and adding them to the dish.
Total Time: 45 minutes | Prep Time: 15 minutes | Serves: 4 to 6
1 1/2 pounds (about 3 cups) of cooked chicken, cubed

2 (10.5-ounce) cans of cream of chicken condensed soup
4 cups low-sodium chicken stock
1/2 teaspoon pepper
1/2 teaspoon parsley
1/4 teaspoon garlic powder
4 carrots, chopped

2 celery stalks, chopped

1/2 cup frozen peas

2 tablespoons flour
2 packages (10-ounce) buttermilk biscuit dough
Cut or tear the chicken into pieces, about 1 to 2 inches in size.

In a large pot or Dutch oven over medium-high heat, add the chicken, condensed cream of chicken soup, low-sodium chicken stock, pepper, garlic powder and parsley to the pot.
Add the carrots and celery pieces, along with the peas, to the pot. Cover the pot and simmer on low for 10 minutes.
Sprinkle half the flour over a flat surface. Remove the biscuit dough from the package, placing each biscuit over the floured surface. Sprinkle the remaining flour on the top of the biscuits and roll them out to about 1/8-inch thick rounds.
Slice each biscuit round into 8 pieces, uncover the pot and add the dough pieces to the simmering pot of chicken, little by little, to stop them from sticking to each other. Cover the pot and cook for an additional 20 minutes.
Remove the pot from the heat and serve.
References
Writer Bio
Based in Las Vegas, Susan Paretts has been writing since 1998. She writes about many subjects including pets, finances, crafts, food, home improvement, shopping and going green. Her articles, short stories and reviews have appeared on City National Bank's website and on The Noseprint. Paretts holds a Master of Professional Writing from the University of Southern California.