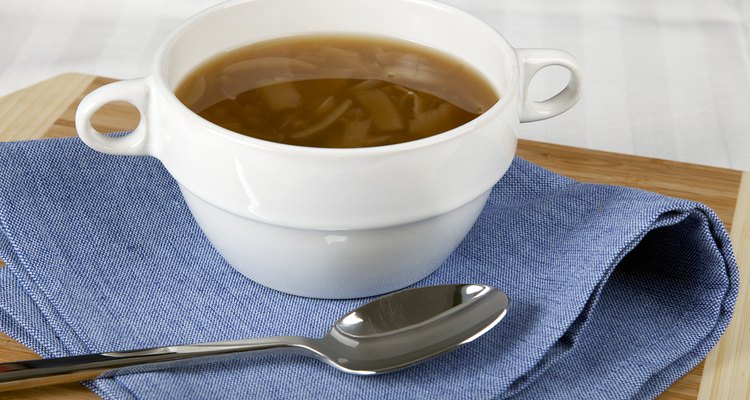 cheche22/iStock/GettyImages
A Convenience-Food Favorite, With Home-Style Ingredients
A lot of the quickest, easiest weeknight recipes call for dry onion soup mix, which adds a wallop of concentrated flavor to whatever you're cooking. Unfortunately, it also adds a wallop of concentrated sodium, and usually a number of other less than desirable ingredients, such as preservatives and MSG. If you love the convenience of dry soup mix but prefer to use healthy ingredients, this homemade onion soup mix recipe is exactly what you need. It's a direct, one-to-one replacement for the store-bought kind.
Total Time: 4 minutes | Prep Time: 4 minutes | Yield: 4 portions of dry mix
1 cup dehydrated onions (onion flakes)

1/2 cup beef bouillon granules, sodium-free and MSG-free

1 teaspoon onion powder

1 teaspoon dried parsley

1/2 teaspoon celery seed

1/2 teaspoon paprika

1/2 teaspoon granulated sugar

1/2 teaspoon fresh-ground black pepper

Measure the ingredients into a medium-sized mixing bowl. With a fork, spatula or wire whisk, thoroughly combine all the ingredients.

Divide the mixture among four zipper-seal storage bags. If you have a kitchen scale, use it to make sure the bags are equal in weight. Otherwise, just eyeball it.
Squeeze out as much air as possible, and seal the bags tightly.

Store the mix in a cool, dry place. Each bag is equivalent to one packet of store-bought dry onion soup mixture.

For best results, use the mixture within four months. Over time, its flavors will fade, and the bouillon granules may clump together.
References
Writer Bio
Fred Decker is a trained chef and prolific freelance writer. In previous careers, he sold insurance and mutual funds, and was a longtime retailer. He was educated at Memorial University of Newfoundland and the Northern Alberta Institute of Technology. His articles have appeared on numerous home and garden sites including GoneOutdoors, TheNest and eHow.