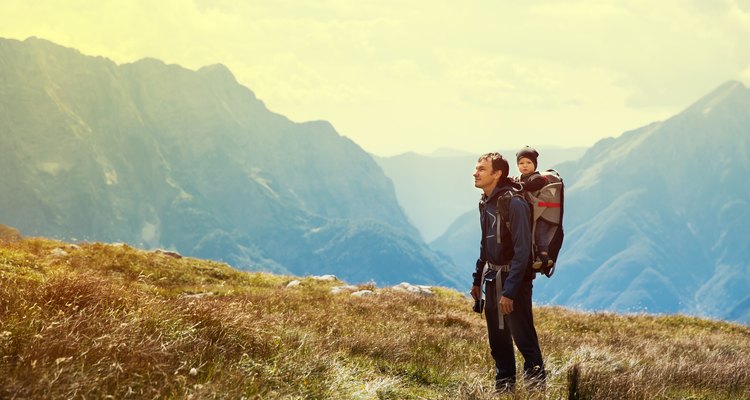 NataliaDeriabina/iStock/GettyImages
Gear for Carefree Hiking
Sneakers, a T-shirt and cargo shorts are enough for a stroll in your neighborhood park. Getting ready for a longer hike requires a little more preparation and a few basic pieces of equipment that can mostly be repurposed for daily life. If you're hiking with your kids, let them choose the trail you'll follow, and carry a pocket field guide to help identify things you'll see along the way.
The Basics
Adults and older children should have hiking boots, but choosing the right pair, and getting the right fit, can be difficult. If you're casual day hikers, a pair of lightweight hiking shoes should do. Day hiking boots don't, however, have the serious support that backpacking boots have. Go to a retailer with a professional understanding of what boots are right for you before spending a lot of money on a pair of shoes.
Choose clothing made from synthetic materials that wick moisture away from your body and dry quickly. "Cotton kills" is a bit of advice serious hikers adhere to. The fabric stays wet, making you uncomfortable and cold if the temperature changes.
Socks should be made of wool or other fabrics that breathe and dry well. You need protection from blisters and dry feet. Pack extra socks if you're going on a muddy hike.
Tips for Hiking With Kids
If you're an inveterate hiker, rather than a once-in-a-while walker, buy a child carrier for your newborn-to-12-month infant. Kids up to 6 months old need to be carried on the front of your body. After that, they can ride on your back. Make sure the carrier fits another adult in your hiking group, so you can switch off when you get tired.
Once your child graduates from the carrier, let her have her own water bottle or mini-backpack to wear. Kids love having their own gear, and will take better care of it when it belongs to them. The water bottle will also help your child stay hydrated without bugging you for a drink.
Kids who aren't being carried don't need expensive hiking boots. Sneakers will do, or other close-toed shoes. Carry extra socks for when the shoes get wet and dirty.
Teens should be able to carry all of their own gear, including a water bladder, and should be able to hike ahead of you or your group. Let them hone their map and compass reading skills, and make sure your teen carries a whistle to blow in an emergency.
Teach your children "leave no trace" etiquette.
Carry a First-Aid Kit
There are plenty of commercial first-aid kits on the market, but it's easy enough to create your own. Pack an assortment of adhesive bandages, blister cushions, gauze and tape. Add hydrocortisone cream along with antiseptic wipes and ointment. Remember to include any medications your child will need to take as well as treatments for allergic reactions. If you do buy a first-aid kit in a hard case, transfer the contents to a zip-close bag. It'll be easier to stuff into your backpack.
Sun and Insects
Wear a baseball cap or a wide-brimmed hat to protect your face and scalp from the sun, and cover any exposed areas of skin with broad-spectrum, sweat-resistant sunscreen with an SPF rating of at least 30. Don't use sunscreen on infants. Instead, put a broad-brimmed hat on your baby that will protect her head, face and shoulders.
Insect repellents containing DEET are the most effective. If you're going to be out for a long time, choose one with at least a 35-percent concentration. DEET is considered safe for pregnant women.
Seasonal Considerations
Pack a lightweight rain jacket if there's any possibility of showers. A rain suit of pants and jacket will keep you dry in heavier downpours. Wear layers in cold weather. You can take them off as the day progresses and you warm up from your hike. Check the waterproofing on your hiking boots from time to time. If water stops beading on the leather, it's time to refresh their waterproofing.
Stay on Budget
Unless you're an extreme hiker headed to the summit of Everest or into the jungle, you don't need to spend a fortune on clothing, no matter what the outfitters tell you. If you hike more than a couple of times a year, consider investing a little extra on good boots for the family.
References
Writer Bio
Meg Jernigan has been writing for more than 30 years. She specializes in travel, cooking and interior decorating. Her offline credits include copy editing full-length books and creating marketing copy for nonprofit organizations. Jernigan attended George Washington University, majoring in speech and drama.