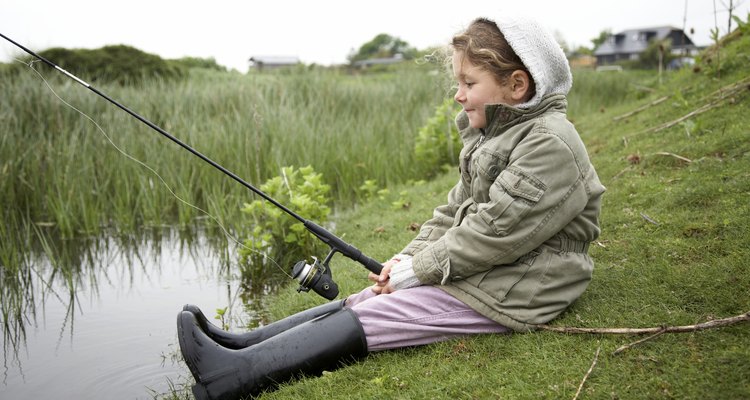 BananaStock/BananaStock/Getty Images
When your rain boots were brand new, the rubber had an alluring shine and bold, beautiful color. After some time, though, many rubber boots develop a white, waxy film on the outside. This is normal, and it happens because some boot makers bind wax with the rubber to help protect the material. The development of this film is called "blooming." Plain water won't get rid of the wax, but you can eliminate it almost completely with an adhesive-remover product.
Step 1
Wet a washcloth with lukewarm water. Wipe the boots with the washcloth to remove any dirt or stuck-on debris.
Step 2
Moisten a clean cloth with an adhesive-remover product. Alternatively, spray the adhesive remover directly on the boots.
Step 3
Scrub the tops and soles of the boots with the cloth until the waxy residue disappears. If the cloth dries out, apply more adhesive remover as needed. If the residue doesn't wipe off easily, apply more pressure as you scrub.
Step 4
Wet a cotton swab with the adhesive remover. Wipe around any lace holes and over the seams of the rubber.
Step 5
Apply a light coating of UV-protectant spray to each boot, and then buff the boots with a clean, soft cloth. The UV-protectant spray makes the boots shine and eliminates any remaining bloom. Do not apply the spray to the boot's soles. Doing so may make them very slippery, which can result in a fall.
References
Resources
Tips
If your rain boots get wet inside, hang or set them upside-down to dry. This will prevent mold and mildew from forming inside the boots.
White, waxy residue on boots is typically caused by high humidity and heat. To help prevent it, store your boots indoors in a cool, dark spot.
Writer Bio
Melissa King began writing in 2001. She spent three years writing for her local newspaper, "The Colt," writing editorials, news stories, product reviews and entertainment pieces. She is also the owner and operator of Howbert Freelance Writing. King holds an Associate of Arts in communications from Tarrant County College.
Photo Credits
BananaStock/BananaStock/Getty Images