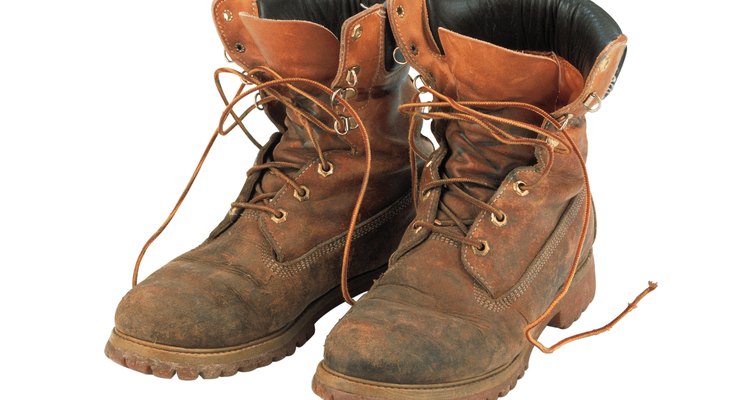 Comstock/Comstock/Getty Images
Discoloration can make your leather or suede boots look old, worn out and ruined. In cases of severe discoloration where large patches of the leather or suede are faded or discolored, you may need to take your boots to a professional shoe repair shop to have the damaged areas restored to their former shade. However, if the discoloration is minor, and if you're willing to try, you may be able to successfully restore your discolored boots at home with a few supplies.
Clean your boots thoroughly using water and a clean towel. It's possible that the discoloration is caused by caked-on dirt. Let your boots dry completely.
Purchase a leather or suede dye kit in the color of the nonfaded areas of your boots. Choose the appropriate kit for the material your boots are made of. Dye kits can be purchased online or at local shoe stores.
Follow the instructions provided in the dye kit to restore the proper color to the discolored areas on your boots.
Spray your boots with leather or suede protector spray to prevent future discoloration.
References
Writer Bio
Nadria Tucker holds a Master of Arts in creative writing from the University of Alabama at Birmingham. She has contributed articles to "Birmingham Magazine" and "Lipstick Magazine" and her fiction has appeared in "THE2NDHAND," "New Southerner" and the fiction anthology "All Hands On: THE2NDHAND After 10."
Photo Credits
Comstock/Comstock/Getty Images