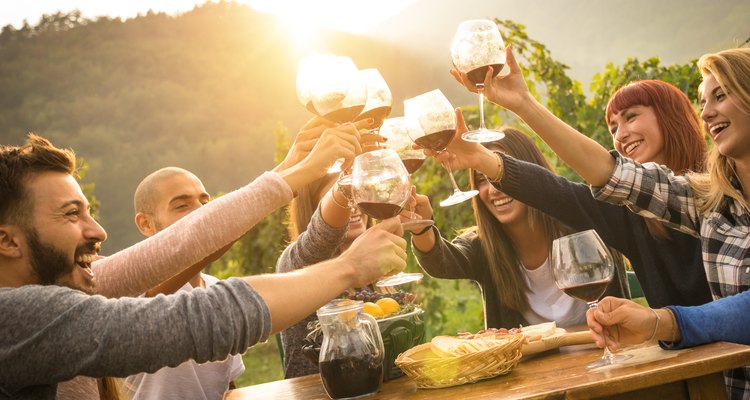 ViewApart/iStock/GettyImages
Bring Generations Together With Planned Family Fun
Has Aunt Judy met all her grand-nephews yet? When was the last time all the cousins got together? If you only see your extended family at funerals or on the occasional holiday, it's time to bring them all together and create some happy new memories. Pulling a reunion together takes a lot of planning, so get a jump-start on the bonding process and recruit a few relatives to help you manage the work. Here's how to tackle the job.
Poll the Group
Four to six months in advance of the reunion, collect email addresses for at least one member of every nuclear family, or invite everyone to join a private Facebook group. It's simplest to use one point person per family, rather than having dozens of voices join the conversation.
Throw out a few dates that you think might work for a reunion. Summer brings warm weather and school vacations, so this may be the ideal time. Suggest two or three weekends and ask for feedback: Who would like to come to a reunion, and which (if any) of those dates work? If no dates work for a majority, you can suggest a few more. Ultimately, though, no one date is going to work for everyone. In the meantime...
Brainstorm Venues
Choosing a city in which to gather may be a no-brainer. If everyone originally hails from the same hometown, for instance, or if someone offers up their huge beach house to the group, this decision is made for you. If not, you may decide to open the topic up to everyone for debate, or consult with a few reasonable family members and come to a consensus among yourselves.
Thinking about the type of venue might help you narrow things down, too. Are you a family of active, outdoorsy types? Camping might work. If you have a lot of older relatives who need a slow pace and plenty of comfort, think about making a hotel your home base and planning a host of activities that people can opt in or out of. Renting a big house at the beach, near a ski resort or in the woods might be a plan for your group, too.
Before you finalize anything, narrow down your options to create two or three proposals. One might be a single-day gathering at a public park, another may be a weekend at a pricey rental house, and a third might be a three-day camping trip. Lay out the dates, location and cost per person that each scenario would involve. Share them with the group and ask for feedback.
Consider Everyone's Needs
Ask the point people to update you on the physical needs of everyone in their individual families before you finalize any plans. If someone uses a wheelchair or is on crutches, for instance, you'll need to choose a venue that's accessible. If a family member is pregnant or dealing with pressing medical issues, you may want to choose a location that's near a hospital rather than one isolated in the woods.
The type of venue you choose also has to afford plenty of entertainment options for kids and adults of all ages. A hotel or rental house that has a pool and plenty of outdoor space is a great option for kids. Space is a major concern, too. Your venue should have plenty of room for everyone to spread out.
Finalize Plans
At least a few months out, commit to the plan that has the most support from the family. Collect money from the group if necessary. Book the venue and send out a message letting everyone know that you're set.
Assign Jobs
You've done the hardest work to get the reunion ball rolling. Now ask for volunteers to help organize the event, and assign them each a job. For instance, put someone in charge of planning the Friday night welcome party, give another relative the task of planning field day games for Saturday, and ask older kids to brainstorm activities that might work to keep younger kids happy.
Think about meals now, too. Will you be on your own in a rental house? Ask volunteers to plan the meals, or ask each family to bring their own groceries and make their own meals. If you'll be eating out or getting catering brought in, making reservations or coordinating with the caterers are perfect tasks to assign to willing volunteers.
Share Updates
Send out an update message about once a week leading up to the event, keeping everyone informed of the plans and asking for help in tackling specific tasks when you need it. Get excited to see all your hard work pay off!
References
Writer Bio
Cooking, travel and parenting are three of Kathryn Walsh's passions. She makes chicken nuggets during days nannying, whips up vegetarian feasts at night and road trips on weekends. Her work has appeared to The Syracuse Post-Standard and insider magazine. Walsh received a master's degree in journalism from Syracuse University.