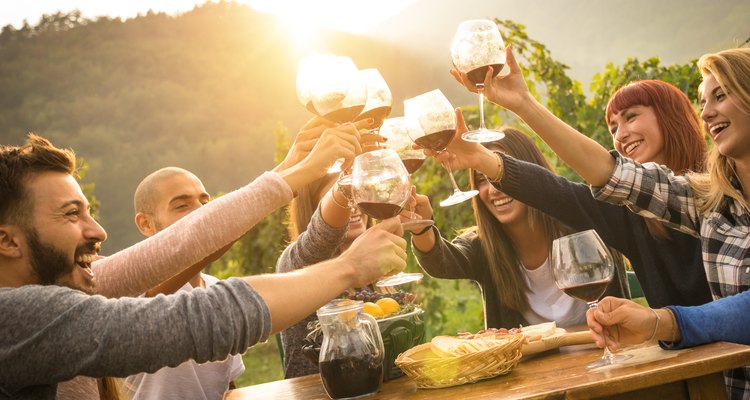 ViewApart/iStock/GettyImages
Find the Perfect Place to Please Every Generation
Ideally, your family could gather in an open field and just enjoy the time together. Realistically, the pollen would agitate someone's allergies, the kids would be bored and Grandma's famous potato salad would go bad in the sun. Pleasing everyone may sound daunting, but it can be done. Be mindful of a few key logistics while you're scouting the perfect venue.
Budget Busters
Timing is the first thing to sort out when you're planning a reunion. After all, it's not much good if the weekend you choose doesn't work for half the group. The second question to answer? Who's paying for what, and how much everyone is willing to contribute.
If some of your crew are on tight budgets, look to low-cost venues like campgrounds and park pavilions. If you have a larger budget, you might look at a resort or hotel. You can reserve a block of rooms and let each individual or family pay for their own. Alternatively, you might rent a large house on a lake or near a beach so everyone can stay under one roof. In that case, you'd have to either collect everyone's share of the rental fee before making the booking, or pay upfront and trust that all your relatives will actually fork over their checks later.
Think about additional costs, too. Are you staying somewhere where meals will be included? If you have to supply your own meals, make sure everyone knows that they'll have to account for that in their reunion budgets.
Location, Location, Location
Where will everyone be coming from, and what time of day will they arrive? If the event will last for multiple days, where will everyone stay overnight? And how will you guarantee that no one gets stranded at the airport or reunion venue? These are all questions to think about when scouting locations. If lots of guests will be coming from out of town, make sure that there's reliable transportation to get them to and from the venue, and to transport everyone to and from group activities. If you'll be short on cars, choose a venue where meals and activities are available or located within walking distance.
Accessibility is also crucial. If any family members are elderly, use wheelchairs, disabled or have any other physical limitations, make certain that the venue you choose is comfortable, safe and navigable for all. The space should also be childproofed, or at least easy to childproof quickly using some basic supplies like portable baby gates.
The Beast of Boredom
The best family reunions allow everyone some downtime and freedom, but you do want to make sure there will be plenty of activities available for those who want them. Will the venue you choose have something for everyone? If not, can you easily provide some activities? For example, if you rent a house in the Adirondacks, will it come stocked with fishing poles, snowshoes and other outdoor gear? Will there be puzzles, games and kid-appropriate activities on hand to occupy everyone on a rainy day?
Size Matters
Cramming dozens of relatives into a small space is not going to end well. Any venue that you choose should have adequate space and seating for people to eat and congregate comfortably during the day. If you'll all be staying overnight in the same house, draw up hypothetical sleeping arrangements to make sure everyone will have their own private or semi-private space. Babies and young children will also need a sleeping space away from any common areas.
Think about the big group activities you might want to plan, too. Maybe you'll all have a barbecue on the first night, go on a family scavenger hunt the second day and have a big farewell brunch on the last morning. Whatever venue you choose should have the space for everything you're picturing, and then some.
References
Writer Bio
Cooking, travel and parenting are three of Kathryn Walsh's passions. She makes chicken nuggets during days nannying, whips up vegetarian feasts at night and road trips on weekends. Her work has appeared to The Syracuse Post-Standard and insider magazine. Walsh received a master's degree in journalism from Syracuse University.