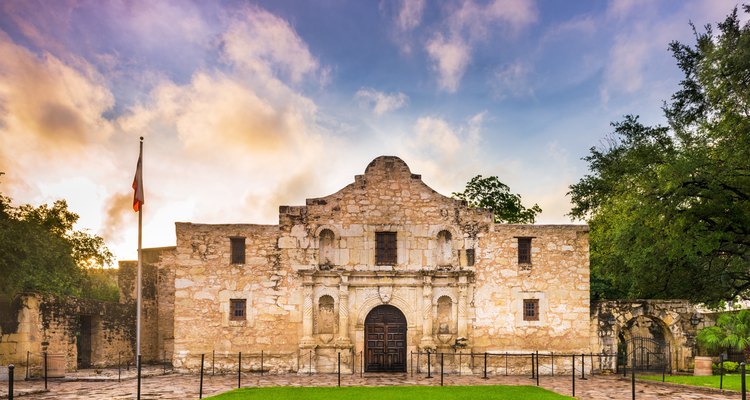 SeanPavonePhoto/iStock/GettyImages
Introducing Kids to Unique San Antonio
San Antonio is a great place to visit with kids: It's colorful, interesting just to walk through and packed with cool things to do, from historical sites to natural wonders. There are theme parks, of course: 6 Flags is there, as is Sea World, and Splashtown is good for cooling off from the hot Texas sun. These, however, are not what make the city unique. When traveling with kids, consider forgoing the big attractions and learning what's so special about San Antonio.
Remember the Obvious
Who can think of San Antonio without immediately thinking of the Alamo? (300 Alamo Plaza, San Antonio, TX). It may be a tiny fort, but that's all the better for sparking kids' imaginations as they walk through the church, the Alamo Hall, the Long Barrack Museum, the Cavalry Courtyard, the Living History Encampment and the Amphitheater, imagining how it all must have been when brave defenders waged a battle there against impossible odds. It's located right downtown, and entrance is free, which makes it a definite must-see if you're vacationing on a budget.
Sample Local Culture by the River
Another free downtown attraction is the River Walk, with 15 miles of trails along the river right through the city. More than just a place to walk, it's a vibrant part of the life of the city, with artwork, dancing shows, kid-friendly restaurants, and even ducks. If you're visiting in the summer, this may be too hot and crowded to be fun, as is the case with many outdoor San Antonio attractions. Perhaps the most spectacular time to visit is the holiday season when events like the Holiday Artisan Show and Holiday Boat Caroling are illuminated by 100,000 lights on the cypress trees along the river.
Explore the Natural Wonders of a Cave
In summer, when the Texas temperatures are pushing into the mid-90s, slipping into a cool underground cave can be a very tempting idea. Natural Bridge Caverns (26495 Natural Bridge Caverns Road, Natural Bridge Caverns, TX ), located just outside San Antonio, is the perfect spot to do this. This natural wonder was discovered by four college students in 1960, but today visitors can tour the caves, located 180 feet below ground. It's educational, but also fascinating, with rock formations like stalagmites, stalactites, flowstones, chandeliers and soda straws. There are also other activities for the family, like gem mining, zip-lining and a maze.
Visit an Award-Winning Zoo
The San Antonio Zoo (3810 N. St. Mary's St. San Antonio, TX) was established in 1914, and it's kept up with the times beautifully, striving to create environments as close to the animals natural habitats as possible. In fact, it is the only zoo in the nation to be certified by the Association of Zoos and Aquariums, Zoological Association of America and American Humane. What's more, it's a really fun place to visit, especially in spring and fall when the temperatures are cool enough to be comfortable for visitors and animals.
The zoo is located in midtown, at Brackenridge Park, where families can make the most of the day by incorporating a visit to another San Antonio attraction, like the Japanese Tea Garden or the Witte Museum. The zoo encompasses 35 acres and offers visitors the chance to observe over 750 different animal species.
Kids will love feeding the giraffes, visiting the butterfly exhibit, riding the carousel and train, and seeing gibbons and lions up close. Africa Live makes visitors feel they've been transported to Africa, and Kronkosky's Tiny Tot Nature Spot provides a place for the littlest zoo visitors to play, interact with nature and express their creativity in a safe environment full of hands-on fun.
Head to an Interactive Museum
An innovative San Antonio museum for kids, the Doseum (2800 Broadway, San Antonio, TX) opened in 2015, focusing on science, technology and mathematics (STEM) but also incorporating literacy and creative arts concepts, all in a very hands-on way. Admission is currently $12, but there's so much to do that it's well worth the expenditure. It's a great place to spend a nice chunk of time.
There's a 39,000 square foot outdoor space, where kids can play with bubbles, sand or water, play on a thirty-foot climbing structure, explore a tree fort or bamboo forest, play on a giant checkerboard or giant slide and much more. If the temperatures outside are too hot, don't worry, there's plenty to do inside.
There's so much for kids to discover, whether they're using their imaginations to create stories and animation, interacting with the latest technology, playing music or exploring light and sound, using maps, models and themed play to learn about their community and the world, or building with blocks and simple machines; the list goes on and on. There are activities for every age group, so a newborn can watch the butterflies outside while an older child is building robots in the Innovation Station. Spy Academy even makes math into a game, letting kids solve mysteries by breaking codes and using deductive reasoning.
References
Writer Bio
Amy Curtis has been writing her entire life and professionally for the past decade. Her work has been featured on sites like Wayvs.com, 10Best.com and WorkingMother.com. A vagabond at heart, Curtis has lived all over the U.S. and Europe. She loves a good road trip, and has traveled extensively for business, pleasure, mission trips and as a military wife. She's currently busy working on a novel and planning her next big trip to Lake Powell, Utah.