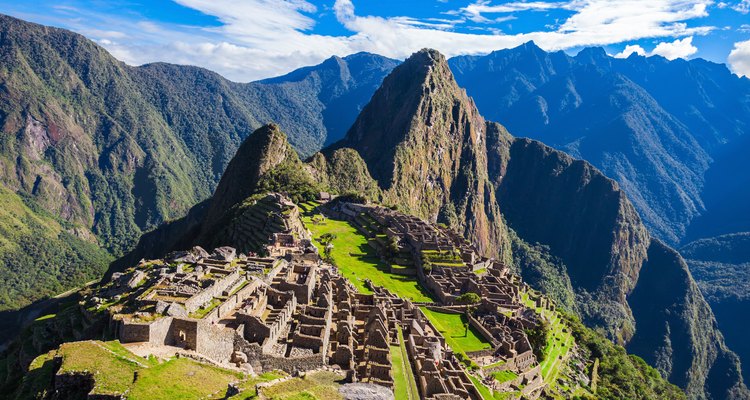 saiko3p/iStock/GettyImages
Getting High in Peru's Andes Mountains
Machu Picchu takes your breath away. The 15th-century Incan citadel is set high in the Andes Mountains in Peru. Whenever you go, you and your kids will never forget the adventure.
Nobody knows what the 150 ancient buildings were used for or why they were abandoned a century after being built. The site, with its dry-stone walls and intriguing structures, is considered one of the world's most famous man-made wonders.
When figuring out the best time to go, the most important considerations are climate and the popularity of the site. Unfortunately, these cut in opposite directions, so you'll have to weigh them yourself.
Dry Season Beats Wet Season for Fun and Photos
Don't think in terms of warm weather versus cold weather. When you're talking about Peru, the distinction is wet season versus dry season. Wet season—from November through March—is the warmest time of the year. It's also when the orchids bloom. But it truly earns its name; expect some rain, drizzle or downpour every single day during this period.
The dry season, between April and October, doesn't live up to its name to quite the same extent. It is definitely drier than the wet season, but rain falls from time to time. Still, if you want your children to see Machu Picchu at its most impressive, backed by an azure sky, visiting in dry season is a better bet. You'll also avoid annual closures of the Inca Trail that occur in February, and possible flooding and landslides. No mother wants to take those risks when her kids are along.
Everyone Else Goes in Dry Season, Too
Machu Picchu is a UNESCO World Heritage Site and named one of the New Seven Wonders of the World. Hundreds of thousands of people visit every year. Obviously, the ideal time to visit is when the site isn't crawling with tourists, but that will be difficult in the dry season. In fact, peak travel season to Peru is from June to August, and Machu Picchu is the number one tourist site in the country.
While June, July and August have the best weather, with warm days, cool evenings and little rain, you'll join tourists from around the world who flock to Machu Picchu during those months. Expect large crowds and long lines at the ruin's entrance.
Consider visiting in the shoulder seasons, April/May or September/October. This has some great advantages. The climate is pleasant, with warm-to-cool temperatures. There are more tourists than during the wet season, but you'll find fewer than in June through August.
Doing the Inca Trail
If your kids are old enough and fit enough, why not take them into Machu Picchu on the Inca Trail? It was the ancient royal highway leading into the site and it is an incredible and unforgettable trek through extraordinary terrain.
The Inca Trail is such a popular hike that over 75,000 people do it every year. Current rules forbid independent hiking, so joining a group is mandatory. You can evaluate your family's fitness level and opt for the trip most appropriate for you:
the traditional, 4-day, 3-night path that takes you over three mountain passes,

an easier, more accessible 2-day, 1-night trail, or
a 1-day trek that covers just the last part of the trail

The entire area is magnificent, filled with extraordinary natural beauty, like cloud forest vistas, and man-made sites like the Inca ruins. Hiking in on one of the trails is a glorious way to arrive at your destination, and May or September would be great time to do it.
References
Writer Bio
From Alaska to California, from France's Basque Country to Mexico's Pacific Coast, Teo Spengler has dug the soil, planted seeds and helped trees, flowers and veggies thrive. World traveler, professional writer and consummate gardener, Spengler earned a BA from U.C. Santa Cruz, a law degree from Berkeley's Boalt Hall, and an MA and MFA from San Francisco State. She currently divides her life between San Francisco and southwestern France.