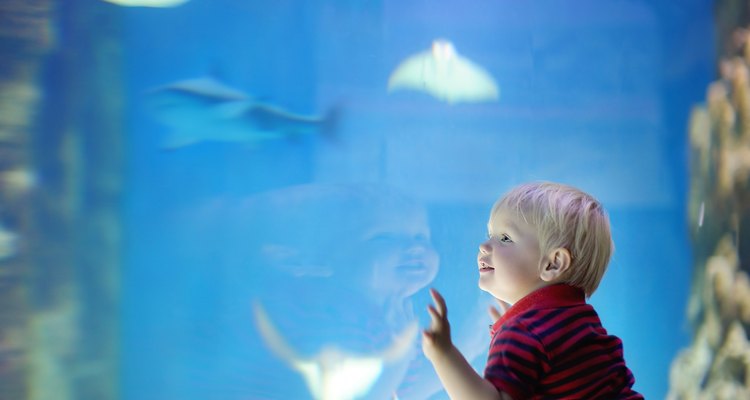 SbytovaMN/iStock/GettyImages
Sojourn in Seattle: Five Kid-Friendly Activities in the Emerald City
From exposure to fascinating local wildlife to the chance to understand the technological marvel that is flight, Seattle offers many ways to stimulate children's natural curiosity. Provided they aren't afraid of heights, there are also opportunities for the entire family to enjoy views of the city and the surrounding mountains. Seattle is notorious for rainy weather, so you'll be glad to know that many of the city's top family attractions are indoors.
Go on a Faux Safari at Woodland Park Zoo
The diversity of the exhibits at Seattle's 92-acre Woodland Park Zoo (750 N. 50th St., Seattle, WA) means that, with a little imagination, kids will feel like they're traveling the globe. They will marvel at Humboldt penguins from South America, snow leopards from Asia and a host of creatures from Africa, including giraffes, lions and hippopotamuses. When not observing the animals, they'll enjoy a spin on the zoo's vintage carousel. Adults pay $21 and children $13 during the summer months. During fall and winter, admission fees drop to $15 for adults and $10 for kids. Children under the age of 2 always get in for free.
Explore the Sea at the Seattle Aquarium
Seattle lies along Puget Sound, which boasts a robust and diverse marine life. Kids can see and even touch some of these critters at the Seattle Aquarium (1483 Alaskan Way, Pier 59, Seattle, WA). The Life of a Drifter exhibit harbors the mysterious giant Pacific octopus, a must-see. Twice a day, you can watch staff feed these creatures. From there, head to the Underwater Dome, where you'll feel as though you've stepped onto the ocean floor as you watch fish, including sharks, swim around you. Don't miss the Life on the Edge exhibit, where children get a feel–literally–for sea urchins and sea cucumbers. Admission to the aquarium costs $30 for visitors over the age of 13, while kids ages 4 through 12 pay $20. Children 3 and under are admitted free.
Learn and Play at the Pacific Science Center
Live animal exhibits and two IMAX theaters are among the reasons why Seattle's Pacific Science Center (200 Second Ave. North, Seattle, WA) makes for an ideal family outing. Explore the Tropical Butterfly House to contemplate butterflies in every color. How big are the giant duckbill dinosaur's feet in comparison to your own? Find out at the Dinosaurs: A Journey Through Time exhibit. For preschoolers, there's a stream table where they can play with water. Admission to the Pacific Science Center is $20 for adults, $15 for kids between the ages of 6 and 15, and $12 for children between the ages of 3 and 6. If you're planning to watch a screening in one of the IMAX theaters, save some money by purchasing an IMAX package.
Enjoy the Views From Two Major Landmarks
Rain or shine, old and young can enjoy a ride on the Seattle Great Wheel (1301 Alaskan Way, Seattle, WA), the largest Ferris wheel on the Pacific Coast. Adults pay $14; children between the ages of 3 and 11 pay $9, and kids ages 2 and under ride for free. On a clear day, you'll see the Olympia Mountains in the distance. Or head to the top of Seattle's most iconic structure, the Space Needle (400 Broad St., Seattle, WA), where the observation deck is equipped with telescopes that let you zoom in on landmarks around the city. Regular admission is $29 for adults and $18 for children ages 5 to 12. You can save money by visiting between 8 and 9:30 a.m. or between 10 and 11 p.m., when fees drop to $19 for adults and $13 for kids.
Reach New Heights at the Museum of Flight
Seattle's Museum of Flight (9404 E. Marginal Way South, Seattle, WA), is home to one of the largest collections of aircraft in the country. Kids can explore a cockpit and feel like they have left the ground in one of several flight simulators. The Kid's Flight Zone allows young visitors to delve further into the world of aviation with interactive exhibits such as a hang gliding simulator. Here, you'll also find plush toys to entertain the littlest tots. When you are ready to rest your feet, take in a show at the museum's 3-D movie theater. Visitors under the age of 18 pay $14 and adults pay $23; children ages 4 and under are admitted free. Save a few dollars by purchasing tickets online ahead of time. There are additional fees for the theater and the flight simulators.
References
Writer Bio
Since beginning her career as a professional journalist in 2007, Nathalie Alonso has covered a myriad of topics, including arts, culture and travel, for newspapers and magazines in New York City. She holds a B.A. in American Studies from Columbia University and lives in Queens with her two cats.