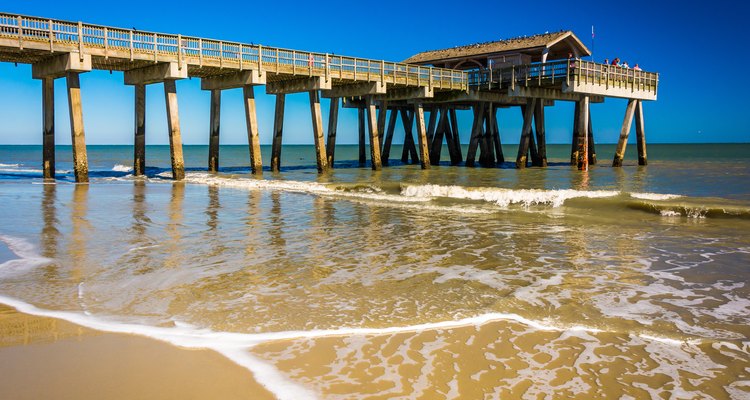 AppalachianViews/iStock/GettyImages
Attractions to Keep the Whole Family Entertained in the Hostess City of the South
Life moves at a leisurely pace in Savannah, GA, where horse-drawn carriages clip-clop over cobblestone streets and pedestrians stroll through quaint town squares dotted with oak trees draped in Spanish moss. Set along the banks of the Savannah River, this sleepy Southern city also caters to high-energy kids looking to stay entertained. Relax as the kids spend the day frolicking on the beach, playing with interactive museum exhibits and riding aboard historic steam trains.
Expanding Minds
Soak up the sun at the outdoor Savannah Children's Museum (655 Louisville Rd., Savannah, GA). Based in Tricentennial Park in the remnants of the old Central of Georgia Railway Carpentry Shop, this unique interactive museum encourages young visitors to explore their surroundings as they frolic in mazes, sensory gardens and playgrounds. Kids can also dress up in a variety of costumes, experiment with unique musical instruments and play a game of chess on an oversized board. For a change of pace, enjoy a bit of peace and quiet as you and your child curl up with a good book in the reading nook.
Making Tracks
Adjacent to the Savannah Children's Museum is the Georgia State Railroad Museum (655 Louisville Rd., Savannah, GA), located in the Central of Georgia Railway Savannah Shops and Terminal Facilities. Pint-sized engineers marvel as they watch locomotives pivot on a fully functioning turntable and pump their way across train tracks aboard an authentic handcar. On select days, the museum offers short rides on historic steam or diesel locomotives.
Military History Comes Alive
Step into the past at Old Fort Jackson (1 Fort Jackson Rd., Savannah, GA), an early 19th-century brick fort that saw major action during the War of 1812 and the Civil War. Today, kids run free throughout the expansive grounds, while also enjoying such educational experiences as trying on period costumes and learning how to load a musket. The fort also features daily canon firings and occasional battle reenactments. The costumed staff is available to answer questions about the history of the building.
Hands-On Fun
Highlighting a collection of edgy contemporary art, the Jepson Center for the Arts (207 W. York St., Savannah, GA) may not seem like an ideal spot for kids. But the center also features ArtZeum, a gallery reserved exclusively for children, where visitors can literally walk inside works of art, curate their own shows and share their opinions on various pieces. Kids with a knack for creativity will love the space reserved for creating 3-D works using magnetic tiles and architectural blocks. Oversized chairs provide children with the perfect place to unwind with a book. The museum also hosts family-friendly events complete with storytimes and special tours.
Island Living
Set out for an island adventure as the whole family makes the approximately 30-minute drive from Savannah to Tybee Island. Rent a bike and explore the barrier island on two wheels or visit the five miles of bustling beaches for an afternoon of surfing and swimming in the Atlantic Ocean. Pack a lunch and head to the Tybee Island Pier and Pavilion, which features picnic tables, sweeping views of the water and frequent summer concerts. Climb the 178 steps to the top of the historic 1736 Tybee Island Light Station or expose your kids to nature at the Marine Science Center, home to such critters as loggerhead sea turtles and horseshoe crabs.
References
Writer Bio
A travel writer since 2002, Leah Rendon has written countless articles for online pop-culture magazines and various travel-related websites, including Eurobooking and World66. Gosford also has experience in copywriting, having developed a series of articles related to network marketing. She graduated from the University of California, Los Angeles with a degree in theater arts.