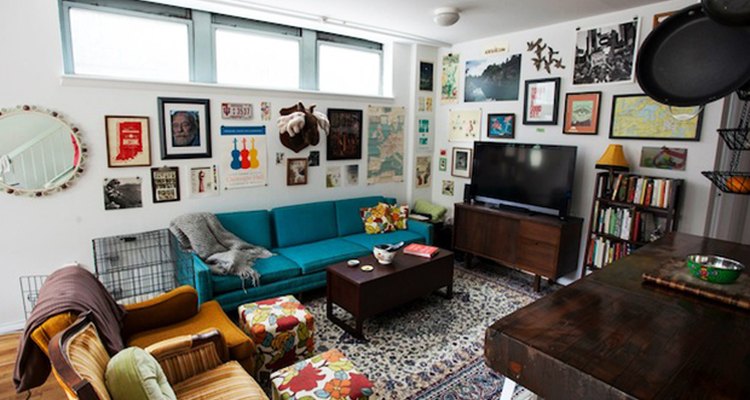 You've been on a few dates with the girl who could be Ms. Right. Chances are good that she's going to see your pad in the not-too-distant future. Here's the thing–you won't know it, but during her first visit, she's going to inspect your place with extreme prejudice. (She wants to make sure you're a civilized guy.) Is your home the kind of place a girl wants to spend more time in, or are you still living like a frat guy?
1. A Personal Photo of… Something
That Scarface poster you've had since college doesn't count as personal, no matter how much you think you relate with Tony Montana. Try a picture from your brother's wedding, an old group family photo, even one of you with your dog. (Absolutely no exes!) The framed photo should be something to show you are a sentient being with more in his heart than old Brian DePalma films.
2. A Clothes Hamper
A hamper is your friend. With such a receptacle in a discreet corner of your bedroom, you go from the guy with a pile of dirty underwear on the floor to the guy whose dirty laundry is where it should be: out of everyone's sight. (Pro tip: Make sure you eventually do said laundry.)
3. A Full Set of Dishes and Cutlery
The husband of a married couple I know once told me that he stole all his silverware–a full set–slowly, from his local Chili's. That's not ideal but did you notice that he stole it all from the same place, and a full set, to boot?I'm not advocating petty larceny—I'm just saying, get thee something to eat with and on. (Bonus points if you can find a couple large bowls and platters big enough to serve snacks.)
4. Cleaning Supplies, Somewhere
A single roll of paper towels doesn't count. A lone bottle of glass cleaner doesn't count. You don't need a full custodial closet, but some basics (all of which have been employed in the last few months) help show we're not walking into a cesspool of bachelorhood.
5. Nice Fluffy Towels (Yes, Plural)
Sorry, but nothing turns a girl off more than a graying, fraying towel with the consistency of sandpaper hanging on your bathroom rack. And what's your thing against a hand towel near the sink? Buy a set of towels. Wash said towels weekly. Then replace them when they start to resemble the Shroud of Turin. Actually, before that.
6. A Proper Dining Table
And not the kind that doubles as a poker table. It's cool if you don't know the difference between modern and rustic furniture, but you should know that you can't serve that awesome dinner you just made on the coffee table in front of your TV.
7. Clean, Comfy Seating
Is your only chair that weird egg-shaped thing you play video games in? Or is it a stained yard sale couch with one good cushion and one that was permanently taken out in The Great Nacho Cheese Debacle of 2011? Look, man–go to a furniture store and choose a couch and/or matching loveseat because you like it and not because you can't believe someone just left it by the curb. Curb furniture is not "perfectly good."
8. Displayed Books (Some of Which You've Actually Read)
"A room without books is like a body without a soul," said the good man Cicero. You should at least have one modest shelf of books you've read, and a selection of ones you're looking forward to reading. This is incredibly more interesting than your collection of Xbox games. And if she doesn't care about books or have any of her own? Maybe think twice…
9. A Good Vacuum
It doesn't have to be a space-age Dyson, but when you fire it up, your vacuum should suck up more dust than it expels. No points for vintage Hoovers when it comes to cleaning gear.
10. A Few Pots and Pans
A cast-iron skillet, a decent frying pan, maybe a stockpot… you don't need to own a gourmet arsenal, but some cookware (coupled with the mastery of two to four decent dishes) really makes all the difference in the world.
11. A Proper Bed
Don't go getting any ideas–she's not hopping in it just because you have one. But, if you've been out in the "real world" for any length of time and you're still sleeping on a futon or a floor-bound mattress, get a bed… with a frame. (Spending money on a mattress is a good investment, by the way.)
12. Lack of Strange Smells
Dishes in the sink for more than 12 hours? Food crusting in bowls or pizza boxes with leftover crusts littered around the house? Smells of unidentifiable origin? We want to visit a boyfriend, not a crime scene. Clutter isn't ideal, but it's tolerable. That said, if the mess is of a perishable nature, clean it up immediately.
Bonus: A PlantThis is optional, but if you can find a healthy, green houseplant and keep that plant alive and mostly green, it shows you care about something other than yourself. A good start for any relationship. (Note: No plant is better than a woefully malnourished one—if you buy one, keep it alive.)
Photo credit: Getty Images